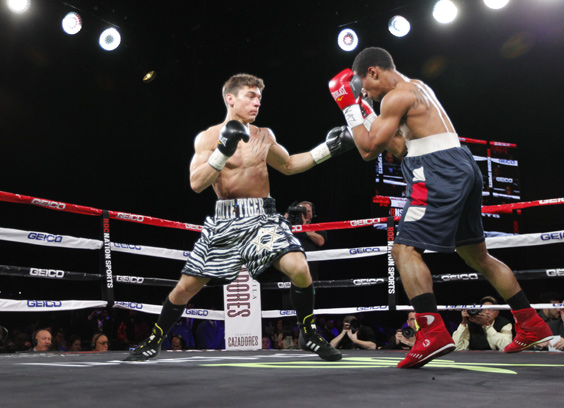 A muskeljude of the modern era, Dustin Fleischer wants to fight with the weight of history on his back—and in his fists.
The "White Tiger"—so dubbed for his background in martial arts—is a rising star in the world of professional boxing. Fleischer recently signed with Jay Z's Roc Nation Sports after a promising professional debut in January 2015, in which he scored a technical knockout in the second round. But according to Fleischer, there's a certain historical power behind each punch.
Fleischer wants to become "the first grandson of a Holocaust survivor to be crowned world champion." The story goes: During the war, Nazis shot Fleischer's Jewish grandfather three times during a pogrom in Poland. His grandfather survived, only to be interned at a concentration camp. He was able to escape and later joined the Polish resistance.
When Fleischer's in the ring, that story is in there with him, too: He never boxes without donning his grandfather's chai necklace.
"Through the sport," Fleischer said, "I have met and become close friends with people from different backgrounds, ethnicities, religions, and from different ways of life." Then he pummels them.
___
» Read more about Dustin Fleischer
» See how Jews influenced modern boxing
» Learn about Muscular Judaism
» Discover the first Jewish boxer