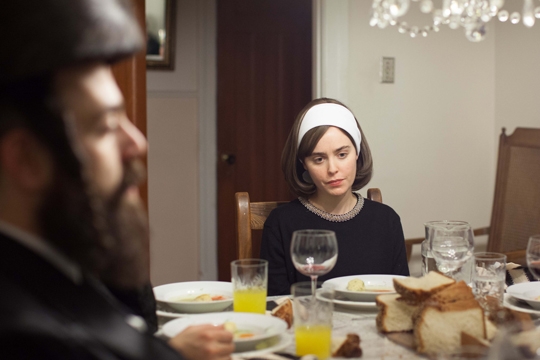 Meira is young, Hasidic, and miserable. She hides her birth control pills and her doo-wop records from her husband Shulem, roaming the wintry streets of Montreal just to get air.
"Why are you trying to humiliate us even further?" asks Shulem. He is devout and confused. Instead of trying to reason with him, Meira sucks in her breath and collapses, playing dead.
Enter Felix – a charming bachelor who just inherited money from his father's death and is looking for someone to guide him. He woos Meira with colorful sketches, wild music and skinny jeans. In the most seductive scene, he takes off her traditional wig and touches her scalp delicately.
Felix & Meira is a very quiet movie, but it has a lot to say. Well-acted and subtle, it opens up questions about the constraints of Orthodoxy, especially for women. We are never clear exactly what Meira wants though, and whether she can find it in this new life. She is no longer playing dead, but does that mean she's truly alive?
The film is directed by Maxime Giroux and stars Hadas Yaron, Luzer Twersky, and Martin Dubreuil.
Interested? Find show times near you.