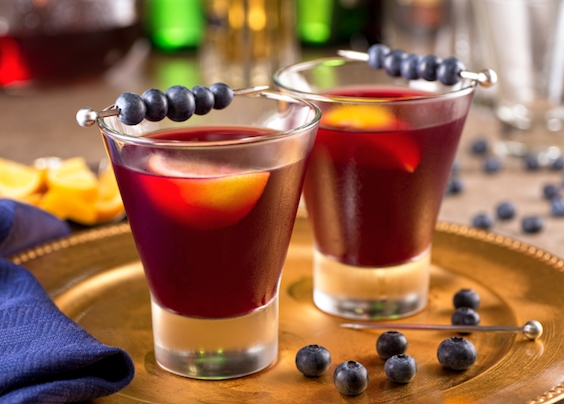 Have you ever been reading the weekly Torah portion and thought to yourself, "I could really use a drink"? If you know that feeling, we have just the blog for you: Tippling Through the Torah, a mixology blog inspired by the Torah.
Amateur bartender and Kiddush Club devotee at Congregation Rodfei Zedek in Hyde Park, Chicago, Andrea Frazier started the blog in October 2015, on a dare from the rabbi. Each week the Kiddush Club reads the Torah portion and picks a few key themes or passages to help her create a new drink. For the end of the Ten Plagues (Parashat Bo) a Dark and Stormy. For Lot's Wife turning into a Pillar of Salt (Vayera) a drink called the Pillar of Salt, which combines coconut water, tequila, lime juice, Bacos, and a salt rim. Frazier and the Kiddush Club even do drinks for Jewish holidays, including an alcoholic seder plate, and two different drinks for Purim, the Golden Scepter, and Vashti's Tuchis.
The cocktails are fantastic and really creative, but the best part is Frazier's funny and irreverent Torah commentary. ("So Pharaoh's heart was still hard, and G-d decided to re-enact a pivotal episode of Little House On The Prairie.") She's like Rashi, if he had access to really great liquor (which, as a vintner, maybe he did).