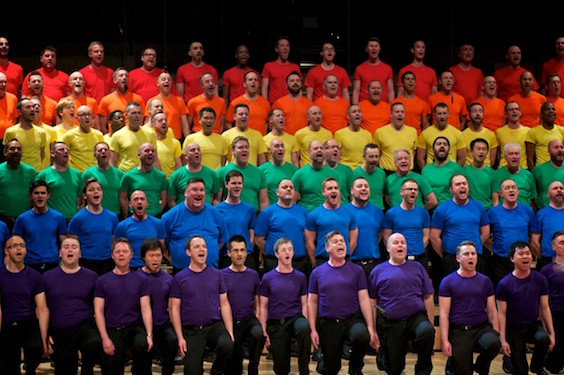 During rehearsal for the London Gay Men's Chorus, Saar Maoz gets a shoulder massage from the man behind him while giving one to the man in front of him. Their voices sound good, but Maoz looks worried. He's struggling with a new medication for his HIV, and to make matters worse, he's worried about his religious mother watching him from the audience.
Directors Tomer and Barak Heymann filmed Maoz and his family over several years in both London and Kibbutz Sde Eliyahu for their riveting, award-winning documentary Who's Gonna Love Me Now?
As we discover in this film—whose drama is as gripping as that of any scripted feature–Maoz was barred from the religious kibbutz where he grew up when he came out. However, his parents and six siblings remain in Israel. Relations between his family and him are strained, to say the least.
Through intimate camerawork, we watch Saar's emotional negotiations with his parents—his stoic but sweet mother, and his patriotic firecracker of a father—who both want him to move back. But first they have to address their own guilt and disagreements.
When Saar visits Israel for a family bar mitzvah, you feel both the warmth and the deep divisions between them. Who's Gonna Love Me Now? is an unforgettable film about families broken and mended, with music by the London Gay Men's Chorus weaving it all together.
In the coming months, Who's Gonna Love Me Now is set to screen at film festivals around the world, including at the Skirball Center in L.A. Sept. 27, and the Chicago International Film Festival Oct. 13 – 27. Check online for updates in Hebrew and in English.