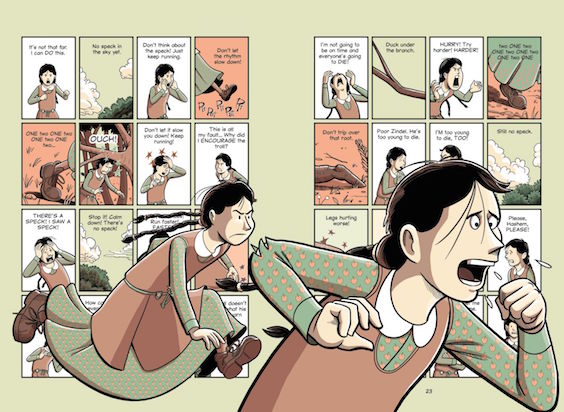 Meet Mirka. Sure, she wears a uniform from her Bais Yaakov (that is, her Orthodox girls' school) and long braids, but this 11-year-old Hasidic girl is also a superhero who fights trolls, bargains with witches, gets pulled into outer space, and still manages to be home in time to light the Shabbat candles.
Mirka lives in Hereville, a town with Hasidic Jews, witches, extremely huge pigs, and magical fish. And you can find it in the pages of the Hereville books, a series (three so far) of graphic novels by Barry Deutsch. In the books (How Mirka Got Her Sword, 2010, How Mirka Met a Meteorite, 2012, and How Mirka Caught a Fish, 2015), Mirka stands up to local bullies, outwits a wily asteroid, and knits berets at a breakneck speed, among many other adventures, often with her siblings, Gittel and Zindel, in tow.
Seamlessly weaving together Hasidic life with magical realism, these books explore what it's like to have big dreams (Mirka wants to be a sword-wielding dragon slayer) and outsized adventures without letting go of your religious life or family.
Image: Barry Deutsch