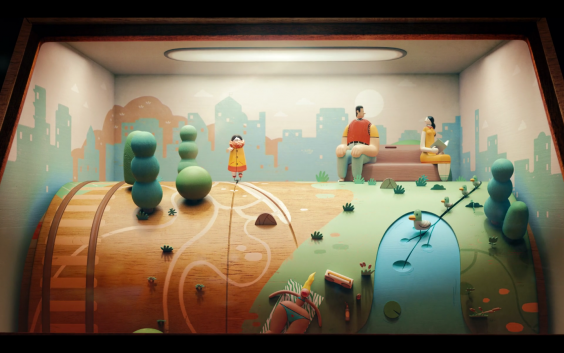 The video for Tel Aviv-based Jane Bordeaux Band's pretty, wistful acoustic song "Ma'agalim" has been making the rounds on the Internet, and for good reason—it's gorgeous:
The animated music video features a small wooden doll in an antique penny arcade machine. She's stuck on a fixed track and, as the wheel spins, she observes characters passing by: a couple falling in love on a bench, an old woman pushing a walker, a fisherman in a pond, a woman tanning on a towel, along with other little creatures, each more adorable than the next.
The video matches the song's lyrics: The title means "Circles" and it's about time passing by. It's a clever concept that's beautifully executed by co-producers Uri Lotan and Yoav Shtibelman, both of whom cut their teeth working at Pixar. Lotan said in an e-mail that the video was inspired by a visit to the Musée Mécanique in San Francisco: "Walking around the museum there was an overwhelming sense that time has stopped, the little characters inside the machines have been destined to a never-ending loop," Lotan wrote.
The folk-country trio — vocalist Doron Talmon, guitarist Amir Zeevi and double bassist Mati Gilad — have been around for a few years. "Ma'agalim" (which you can watch them perform here) appears on their self-titled debut, released in 2014, but this is the band's first official video.