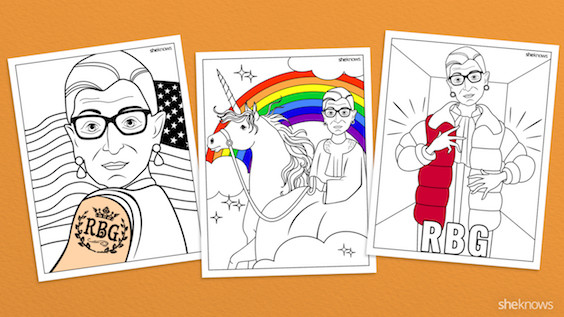 Supreme Court Justice Ruth Bader Ginsburg (aka The Notorious RBG) has been lauded as one of the most powerful people in the U.S., a crusader for gender equality, and a "badass feminist." She was the first woman to work on the Harvard Law Review, the first female tenured professor at Columbia, the first Jewish woman to be appointed to the United States Supreme Court, and she co-founded the first law journal to zero in on women's rights.
And if that weren't enough, she now has a unicorn companion. And she might also wear polka-dotted hair, or an inventive tattoo–that is, if you want her to. SheKnows.com is now offering a free, printable Ruth Bader Ginsburg coloring book. So go wild!
Here are just a few reasons why this coloring book is the gift that keeps on giving:
Unicorn or not, this woman is magical. And with Women's History Month drawing to a close and arguments about who will join her on the bench soon opening, this might be good time to have some fun with colors.