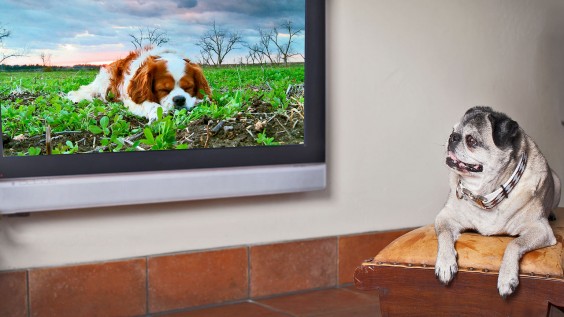 Does your dog, like this one, howl uncontrollably when Law and Order comes on?
Or maybe there's pacing and growling every time Netanyahu is on the news or you try to catch up on Hatufim reruns?
Now there's a solution for both you and your furry friend – DogTV.
This is canine-friendly television at its best. You (and Fido) can choose between "Relaxation," "Stimulation," or "Exposure."
Each category has videos that are 3-6 minutes designed specifically to relax, arouse, or even help train dogs. "Using the most advanced veterinary science," the Israeli team who created this programming is obviously dedicated to their pets. Each visual – from a hazy field to a wild motorboat – is matched with a musical score that hits all the right notes. (There are some studies that suggest high-pitched songs like the "Law and Order" theme song agitate canines – hence the howl-a-thon.)
Ron Levi, the channel's founder, was drawn to this idea because he's a pet owner with a full schedule and learned that dogs often get anxious when their owners are out all day.
It's currently being offered as a subscription-based channel or you can pay to stream it online.
Just be careful leaving the credit card out next to the kibble.
Image: DogTV