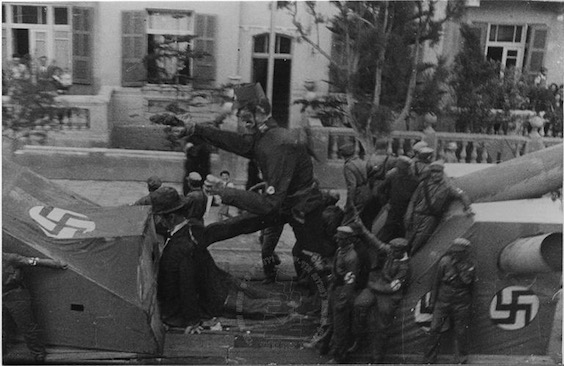 March 1933, Tel Aviv. While Zionist leaders debated how to protest Hitler's rise to power and help German Jews emigrate, Tel Aviv residents were gearing up for their annual Adloyada Purim parade. Against this background came one of the parade's most memorable floats: A Hitler puppet brandishing his lance against bloodied Jews.
This film reel (see 4:14) shows what may be the float, though it's unclear whether it's from that year or from 1934:
The crowd cheered, the float was photographed, and the story would have ended there.
But a week and a half later, the Tel Aviv Municipality received an official letter from the German Consulate in Jerusalem sternly protesting "the tendencious [sic] manner in which Herr Hitler was publicly represented." He paid particular attention to the "Death to all Jews!" placard around his neck and demanded an apology.
Mayor Dizengoff refused to apologize. "Actually, it is quite amazing that the protest was not stronger," the mayor wrote back to the German consul, as Hizky Shoham reports in his book Carnival in Tel Aviv.
How is this relevant to us today? Just ask this group of rabbis who are protesting the expressions of fascism in our midst.
Source: Tel Aviv Municipal Archive 4-3220a
Photo credit: Liora Halperin