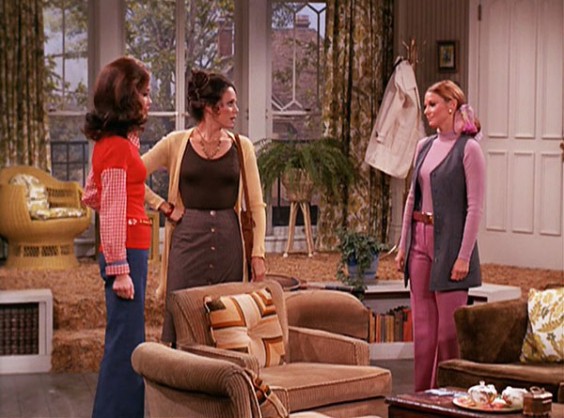 A current exhibit at New York City's Jewish Museum exploring anti-Semitism through pop culture, entitled The Television Project: Some of My Best Friends, borrows its name from that classic lead-up to inevitable prejudice: "Some of my best friends are ___, but…"
It's also an allusion to season 2, episode 23 of The Mary Tyler Moore Show, 1972's "Some of My Best Friends Are Rhoda," the anti-anti-Semitism episode you probably didn't know existed:
Mary, a spunky gentile, is rear-ended by a woman named Joanne. The two become fast friends, and in classic sitcom formula, Mary's Jewish, Bronx-born best friend, Rhoda Morgenstern, feels snubbed. Soon after, Mary is invited by her new friend Joanne to the country club to play doubles, and they need another player. But when Mary suggests they call Rhoda, Joanne's true colors are shown.
Mary learns that the club prohibits Jews. Joanne pretends to abhor the rule, claiming she's never had a chance to get to know any Jews herself. But when Mary suggests she spend time with Rhoda, a real live Jew, the expression on Joanne's face says it all. Mary promptly ends the friendship–she will simply not tolerate anti-Semites.
Refreshingly, Mary doesn't inform Rhoda of this exchange. She's not looking to score points–she was just doing what she knew to be right.