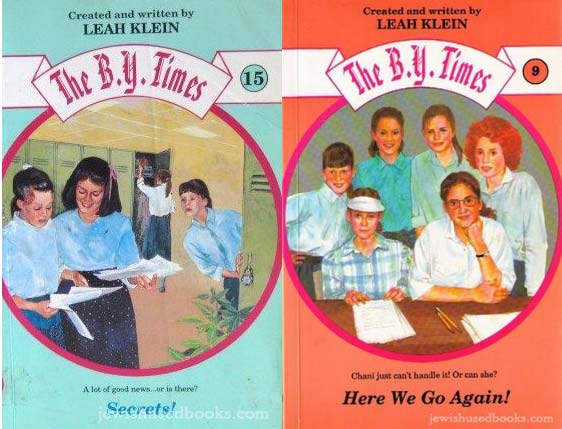 In the 1980s and 1990s, The Baby-Sitters Club ruled. The series, created by Ann M. Martin, followed a group of middle school girls as they babysat and navigated life as pre-teens, managing toddler tantrums, middle school romance, divorce, and their own family dynamics.
BSC books were so popular that in 1990 they spawned an Orthodox Jewish knock-off, the B.Y. Times, starring a group of frum middle school girls. If you thought the Baby-Sitters Club books were tame, just imagine stripping them of their mild romantic plotlines, and even the spreading of rumors, a mainstay of pre-teen literature.
Instead, the girls (Shani, Batya, Ilana, Jen, and twins named Pinky and Chinky) celebrate their siblings' marriages, put out a monthly school newsletter, get stressed while preparing for their bat mitzvahs, and try to welcome new students from the Soviet Union.
Written by Leah Klein, the books were popular among Orthodox girls in certain circles, but they petered out in the mid-90s, around the same time as the BSC's success was waning. Nowadays they're surprisingly difficult to find–and even used copies are very pricey (Batya's Search, Vol. 2, is currently going for $944.30 on Amazon). But if you can find them, they're a deeply amusing example of mid-90s culture turned glatt kosher.
Now we're just waiting for the illustrated BY Times update, à la this hilarious The Jaded Sitters Club by illustrator Siobhan Gallagher.