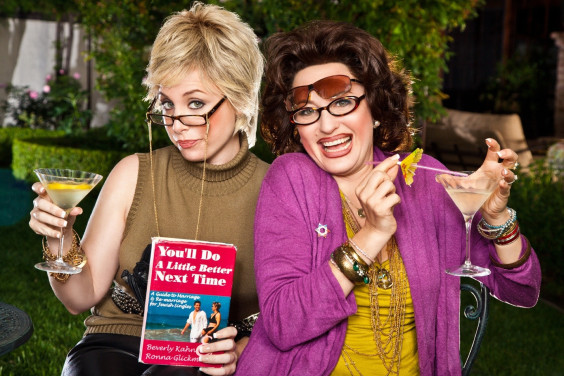 Ronna Glickman and Beverly Ginsberg have some advice for you – and they'll give it whether you like it or not. These two Jewish yentas are the hilarious creations of actresses Jessica Chaffin and Jamie Denbo, and they are redefining the peach pants suit and pre-Pesach lip waxing one podcast at a time.
Each episode is a wickedly funny peek into Ronna and Beverly's feelings about love, divorce, McDonald's coffee, and the Weimar Republic. And that's just the first two minutes of banter. They are loud and unafraid, tackling everything from evolution to Kristallnacht, and often touting their (fake) "best-selling book," You'll Do A Little Better Next Time: A Guide to Marriage and Re-marriage for Jewish Singles. They interview singers, dancers, authors, actors and bring most of their guests to (joyful) tears. Their live shows and YouTube videos are even funnier because you can see their frosted hair and bangles.
It's not all schtick about being meddling Jewish moms though. Ronna & Beverly have the bite of Joan Rivers, the sass of Gilda Radner, and the lasting friendship of Laverne & Shirley. They obviously are two incredible improvisers who really keep up with current events and live to bring laughter.