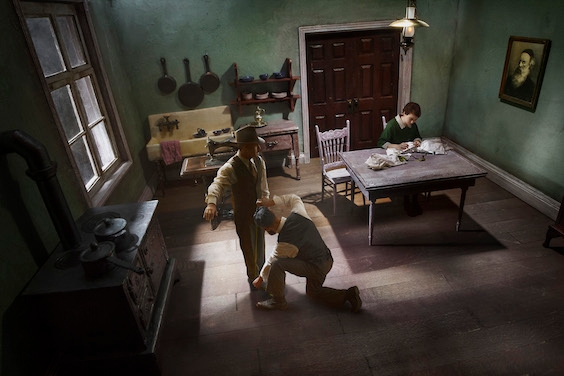 The photographer Richard Tuschman describes his newest series, Once Upon a Time In Kazimierz, as a "novella told in still photographs."
The exhibit, on display until April 9 at the Klompching Gallery in New York, is eerie and mesmerizing. The photos tell the story of what it would be like for a family living in 1930s Kazimierz, the formerly Jewish Krakow district in which Tuschman's wife grew up. Looking at the series almost feels like playing a twisted game of "Where's Waldo?" Only instead of looking for a man in a striped shirt, we're searching for the face of Hitler, or at least his looming presence.

As seen in the video below, Tuschman's technique is painstakingly intricate. For this project, he first constructed dollhouse-sized sets for this fictional world. That in itself took two years. (He used a similar technique in his 2013 project "Hopper Meditations."
Then he photographs actors in character and transplants their images into the pictures he takes of the sets. The final images have an otherworldly kind of haze. In some, you feel a disconcerting stillness.

In another, you imagine yourself in the children looking for companionship.

In one, you watch a woman and man meeting at night – her coat so big it seems to swallow her up. She is carrying a clunky suitcase.

Where will they go?
Image credits:
Measuring, 2015 Image: © Richard Tuschman/courtesy Klompching Gallery, New York
The Tailor's Wife, 2014 Image: © Richard Tuschman/courtesy Klompching Gallery, New York
Working Morning, 2014 Image: © Richard Tuschman/courtesy Klompching Gallery, New York
Somewhere In Kazimierz, 2016 Image: © Richard Tuschman/courtesy Klompching Gallery, New York
Couple In The Street, 2014 Image: © Richard Tuschman/courtesy Klompching Gallery, New York