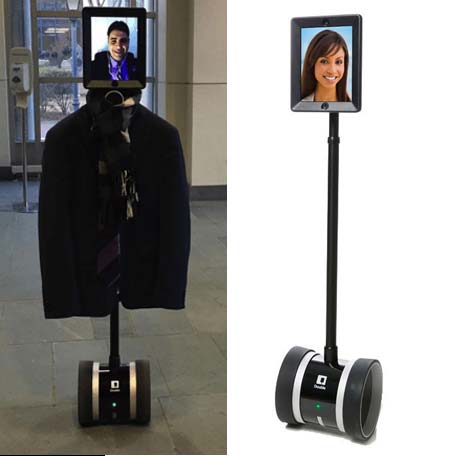 Rumor has it that most of our jobs are at risk of being automated — yes, even the pithy Jewish bloggers among us. But we thought that one bit of human capital was secure: that of the right-wing troll. Now, according to an account of a Middle Eastern Studies event at Brown University, even that role seems destined for a John Henry moment.
Short story: as reported by Brown's chapter of Open Hillel, while students and scholars are having a discussion about Palestinian citizens of Israel, a robot – or, more accurately, an iPad featuring the face of Stand With Us Northeast Director Shahar Azani attached to a suit attached to a "double robotics telepresence robot" (that's right, a robotics robot) proceeds to chat with students about why they attended the event. (Brookstone sells the extremely high-end wheelie robot without coat and tie, but we totally get why they make the whole shtick more profesh).
The idea was the brainchild of "futurologist" Dr. Roey Tzetzana, who has no professional affiliation with Stand With Us, and who meant the tool to be an experiment in "engagement over distance" and an opportunity for students to "hear other voices." But a number of students reported feeling uncomfortable. We're thinking there might be a better (if less clever) way to start difficult conversations than dressing a robot in a suit and mansplaining over Skype. Not that that's gone so well in the past.