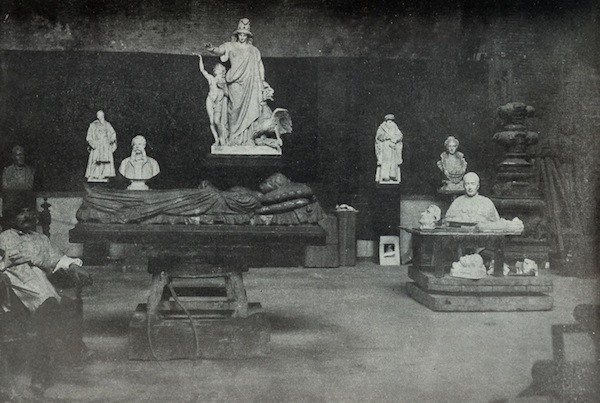 Jews are a prominent part of today's conversation about American racism and confederate history. Many have denounced Trump's response to the events in Charlottesville, and this week, three groups of rabbis canceled the President's annual High Holiday conference call. But there's another way that Jews are mixed up in the debate about Confederate memorials—some of them were crafted by an unusual Jew.
Moses Jacob Ezekiel was born in Virginia and was the first Jew to attend the Virginia Military Institute. He went on to fight for the Confederacy during the Civil War. Afterward, he moved to Rome, where he became a celebrated and eccentric artist. His neo-classical sculptures focused on Confederate heroes like Robert E. Lee and Stonewall Jackson, and paradoxically, the Constitution, and religious liberty. He lived in an abandoned bath house, and was knighted by the King of Italy.
One of Ezekiel's most prominent sculptures is called the Confederate Memorial, and it stands in Arlington National Cemetery. Unveiled in 1914, it glorifies the South, slavery, Rebel soldiers, and their sacrifices. This week, almost two dozen members of Ezekiel's extended family signed a letter asking that the monument be removed from Arlington National Cemetery. They requested it be put in a museum instead.