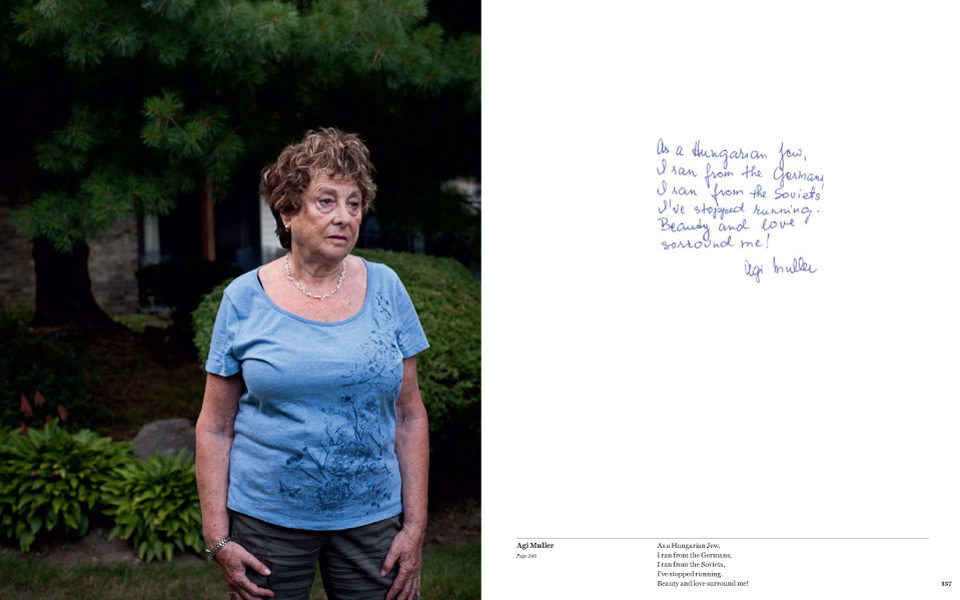 A handsome older gentleman stands softly illuminated by the rain-splattered window behind him, a small, satisfied smile gently curling his lips. The sentence "My name is Izrael Nathan Melamed, not Adam Adams" is scrawled on the facing page, in his early 20th-century European handwriting.
A glamorous woman in black with a cocked straw hat crosses her ankles beneath a gilded mirror. "In my heart I always felt my parents would survive," she wrote.
These are just two of the 102 photographic portraits in Harry Borden's newly released Survivor: A Portrait of the Survivors of the Holocaust. Unlike most collections of survivor testimony, this one relies more heavily on photographs than on words.
The main text that does appear are the photographic subjects' one-line handwritten testimonials. The sparseness of their testimony, juxtaposed with the rich portraiture, reminds us that it's not the volume of information we have about a person's experience that matters, but our ability to behold them in all their unique richness.
Borden, who made a name for himself as a celebrity photographer, describes his motivation this way: "I set out to do something meaningful. Being fortunate enough to have met and photographed these remarkable people has certainly felt meaningful to me."
Photography: Harry Borden