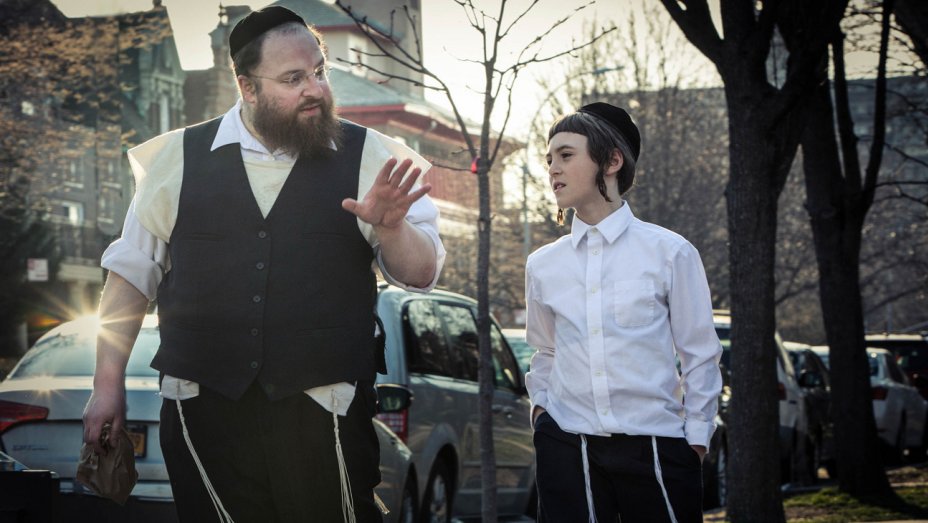 Menashe, a new dramatic film by filmmaker Joshua Z. Weinstein and out with A24, was shot entirely in Brooklyn's Hasidic neighborhood of Borough Park; the language spoken is Yiddish; and much of the tension of the film rises from the strict and complex halacha of the ultra-orthodox. But Menashe is no niche film.
The story of a sweet but incompetent grocer who tries to maintain custody of his son after the death of his wife, Menashe is a touching portrait of filial bonds and the cultural rules and regulations that often come between them—themes universally recognizable.
Menashe is played by Menashe Lustig, a non-professional actor whose life experience mirrors the film. The rest of the cast, like Lustig, are, in his words, "real Hasidic people." As such, the film has an authentic resonance, even if the acting isn't up to snuff across the board. The film is shot in a tight frame that doubles down on the insularity of Borough Park, a vibe familiar to any ethnic enclave—that the film was shot by Weinstein together with photographer Yoni Brook largely in secret attests to this.
Though the film occasionally slips into fairytale Menashe is a lighthearted and often deep portrait of a complicated man in a complicated position. Handled with obvious love and care, it's a film worthy of the tribe.