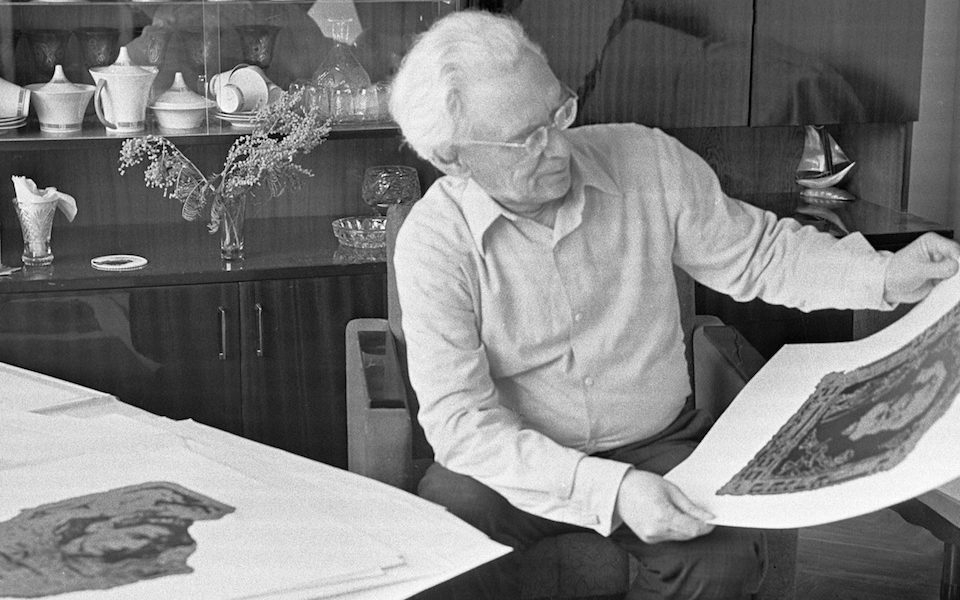 Raised images of Yiddish poets gaze at viewers from gravestones. These two-dimensional memorials, however, are the only gravestones these 12 poets murdered under Stalin would ever have. This series of portraits, called "The Great Thinkers," is by Lazar Ran, a Latvian-born artist who devoted himself to depicting Jewish life and suffering in the Soviet Union.
Ran knew suffering well. Though he was living in Moscow when Nazis invaded Belarus, where he had studied art under Marc Chagall, his wife and child remained in Belarus, and were murdered. As an artist, Ran found work in a variety of genres—including Soviet propaganda.
In the 1950s, Ran began to portray Jewish life and suffering as well, a risky decision as anti-Semitism was a taboo topic. His "Great Thinkers" series, which depicts Jewish artists and writers killed by Stalinist purges and during 1952's "Night of the Murdered Poets" constitutes a type of spiritual resistance to Stalinism.
Lazar Ran's works are on view at the Holocaust Center of Pittsburgh until the end of January. The show includes the portraits as well as works by other Belarussian Jewish artists, all on loan from a private Belurussian collection.
Images courtesy Holocaust Center of Pittsburg