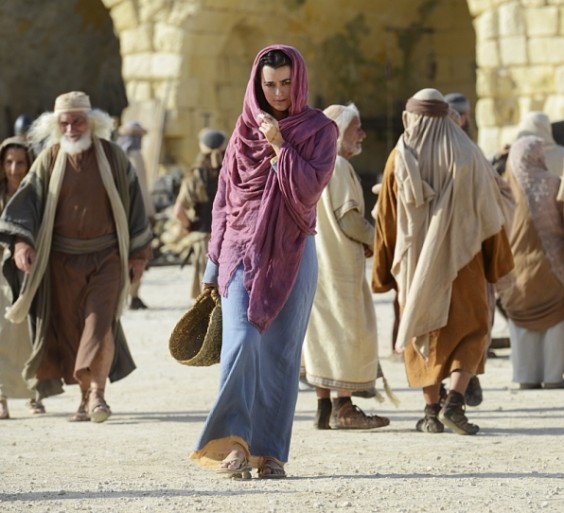 Premiering next week on CBS, The Dovekeepers, based on the bestselling Alice Hoffman novel of the same name, dramatizes the story of Masada, the ancient mountaintop fortress, with bloody sword fights, battering rams and flaming torches. There's lots of steamy makeout scenes by candlelight and overwrought romantic dialogue. ("Can you defend yourself, my little dove?" "Try me.")
While the Jewish rebel leader Eleazar ben Yair and the Roman governor of Judea, Flavius Silva deliver impassioned speeches, the show really focuses on the stories of four women, including Cote de Pablo of NCIS fame as the magic-wielding Shirah, and Kathryn Prescott of Skins and Finding Carter as the fearless fighter Aziza.
("You don't fear things like other women." "I'm not a woman. I'm a warrior.")
And for something a little different — premiering tonight, the Smithsonian Channel's take on Masada takes a decisively more reality-based tone. The one-hour special, Siege of Masada, questions the accuracy of Josephus's account of mass suicide. While renowned Israeli archaeologist Yigael Yadin uncovered human hair and ancient clay shards within Masada's walls, only three sets of human remains have ever been found, and it remains unclear whether any of them were in love with any of the others.
Siege of Masada premieres Friday, March 27 at 9 pm ET. The Dovekeepers airs Tues., March 31 & Wed., April 1 at 9 pm ET.
___
» Watch a trailer for "The Dovekeepers"
» Learn more about Judaism's attitude toward suicide
» Take a virtual tour of Masada (requires Flash Player)
» Read one elementary school teacher's reflections on visiting Masada
___

Watch a (somewhat) dramatic reenactment of Eliezer ben Yair's Masada speech:

Watch a trailer for The Dovekeepers
https://www.youtube.com/watch?v=uW2CIuQzt9c