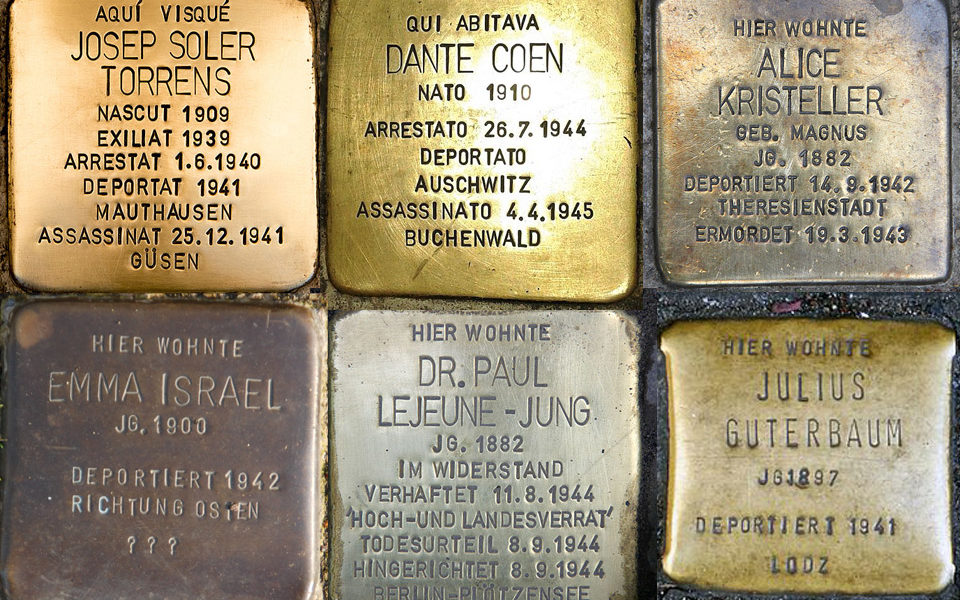 In European cities like Berlin, Vienna, and Rome, with their striking architecture, gardens, and monuments, you'd be forgiven for not looking down once in a while. But if you did, you might notice a smattering of small brass plates wedged between ordinary cobblestones, with just a few pieces of information: a name, a date, and a fate.
The lack of information underscores another absence: of the people the stones memorialize.
The Stolpersteine ("stumbling stones," in German) were conceived by Gunter Demnig in 1996, and he placed 60 in Berlin, guerilla-style, before seeking the proper permissions. Even as the project has gone viral (in a very analog sense), with over 60,000 stones placed in 20 other countries, including Russia, Spain, and Switzerland, Demnig still finds meaning in laying some of them himself.
The plaques, which commemorate Jews, Roma, Sinti, homosexuals, and others persecuted by the Nazis, are installed outside the last residences (or sometimes, workplaces) of the victims. The project is financed by individual contributions, and despite being called the "biggest decentralized monument in the world," the operation still has the feel of a much smaller enterprise. A documentary (not yet available with English subtitles) about Demnig by German filmmaker Dörte Frank shows the innovator delivering Stolpersteine locally on his bicycle.
Through this unassuming but powerful memorial to the victims of the Nazis, they remind us: These people lived here, in this house, on this street, and could have been our neighbors.