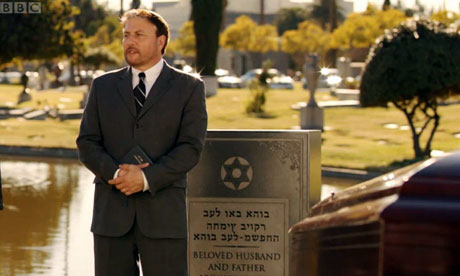 This photo is a screenshot of the British show "Episodes," from an episode that aired a few weeks ago in the UK.
Most people would assume that the engraved Hebrew translates the English ("Beloved husband and father, dearly missed"), however, Hebrew speaker will notice that it's not exactly readable Hebrew. Well it is, however, the entire Hebrew portion is written backwards (kind of like if it was "sdrawkcab nettirw").
The post has gone viral in Israel and is probably an automated translation service errors.
Also, for some reason Google Translate changes Dearly Missed to החמיץ ביוקר, which kinda means "pickled with a great expense."
And I thought BBC still stands for quality.