In the ancient Olympic Games, when city-states like Athens and Sparta competed against each other, there was one rule that was to always be honored: "ekecheiria" – truce. During the Olympic Games, all nations were not to fight each other, and runners were sent to participant cities to announce the beginning of the truce, and nations put down their weapons to secure a safe game experience.
Fast forward almost 3,000 years, and these rules are no longer in play. In a world where politics and sports are tied together, even the noble act of competing under the Olympic flag for the human spirit seems pretty, well, ancient.
Recent reports claim that Iranian athletes will compete against Israelis in the upcoming Summer Games in London. Zvi Warshaviak, head of the Israeli Olympic Committee is skeptical, quipping that he believes the Iranians would go so far as to say that one of their male athletes was menstrating in order to avoid competing against Israel.
Although Warshaviak didn't make his point in the most classy way, it is certainly true that Middle Eastern nations, often Iran, have refused to compete against Israel in the Olympic Games, Olympic qualifiers and world championships. Some countries have offered up creative excuses in order to avoid fines.
Here are a few of the main refusals:
1. Arash Miresmaeili, Iranian judoka, Athens 2004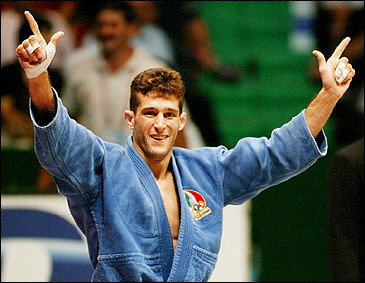 Miresmaeili, who was favored to win the gold medal in the 2004 Olympic Games in Athens and was even the flag bearer for Iran during the opening ceremonies, was favored to beat Israeli judoka Udi Vaks in the first round. However, at the pre-match weigh-in … he came in overweight and was disqualified. There were rumors (never confirmed) that Miresmeili purposely put on pounds so that he could avoid the match without forfeiting — a move that would have caused the International Olympic Committee to issue a fine and possibly ban him from future competition. But Miresmeili later said, "Although I have trained for months and was in good shape I refused to fight my Israeli opponent to sympathize with the suffering of the people of Palestine and I do not feel upset at all." It wasreported that upon returning home he was given $125,000 — the same amount awarded to Iran's gold medalists.
2. Ahmad Ksanfandi, judo referee, Tbilisi Judo Open 2007
Iranian judo referee Ahmad Ksanfandi was supposed to officiate in a second-round match involving Israeli judoka Gal Yekutiel (pictured above) at the Tbilsi open judo tournament in Tbilsi, Georgia. Ksafandi, an Olympic-class referee, refused to show up to the match, and was thrown out of the competition after fellow referee Ran Yedger, who did not refuse to officiate matches involving Iranian judokas, filed an official complaint.
3. Mohammad Alirezaei, Iranian swimmer, Beijing 2008, 2009 and 2011 World Aquatics Championships.
The Iranian swimmer was set to swim a few lanes over from Israeli swimmer Tom Be'eri in the first round of the 100-meter breaststroke at the 2008 Summer Olympics in Beijing. Alas, shortly before the event, Alirezaei was rushed to a Beijing hospital, claiming he was suffering from "indigestion." The IOC decided to "take Alirezaei at his word," and accept that the reason he didn't compete had nothing to do with an Israeli sharing the same water. One year later, at the 2009 World Aquatics Championships in Rome, Alirezaei did not show up to a heat against Israeli swimmer Michael Malul. And three years after that, at the 2011 World Aquatics Championships in Shanghai, it was Gal Nevo who didn't have a chance to compete against him.
Not sure where this guys is eating before his heats, but he might want to stick to dry food. Just saying.
4. Bayan Jumah, Syrian swimmer, Beijing 2008
Only five days after Mohammad Alirezaei's "problem," another Olympic swimmer mysteriously decided not to compete. Syrian swimmer Bayan Jumah, who was supposed to be in the lane next to Israeli swimmer Anna Gostomelsky in the 50-meter freestyle preliminaries, chose not to skip the race without giving a reason. Gostomelsky ended up finishing first with a new Israeli record; when asked about Jumah she simply responded, "It's her problem."
5. Iranian fencers, 2009, 2010, 2011 World Fencing Championships
Someone should tell those Iranian fencers to not bother showing up to the World Fencing Championship — after all, seven of them have withdrawn rather than face Israelis. In 2009 it was Ali Fadja, and Mohammad Hossain Ibrahimi, who also refused to compete in 2010, together with Sedaghati Hamed, Ghanbari Hamed Sayyad and Sadegh Abedi. Shervin Tolouei joined the club in 2011. Honestly, fencing should be the only sport they should compete in (if they were given an opportunity), because it would totally look like one of those old pirate movies. Think about the glory you get after beating someone with a sword. Freaking awesome.
6. Mohammad Soleimani, Iranian taekwondo athlete, 2010 Youth Olympics in Singapore

Soleimani was pulled from the gold medal taekwondo match against Israel's Gili Haimovitz in the 2010 Youth Olympics in Singapore. The Iranian claimed he suffered from a leg injury so severe that he wasn't even able to attend the medal ceremony (picture above). Poor kid.
7. Kaveh Mehrabi, Iranian badminton player, 2011 Puerto Rico International Challenge
 
Even the harmless sport of badminton was a victim to vicious politics, when in November 2011 Iranian badminton player Kaveh Mehrabi refused to play against Israeli Misha Zilberman. Ironically, Mehrabi is a proud member of 'Champions for Peace' club, "a group of more than 50 famous elite athletes committed to serving peace in the world through sport."
8. Ramadan Darwish, Egyptian judoka, Judo Grand Prix in Dusseldorf, Germany
Darwish actually competed against Arik Ze'evi, the Israeli bronze medalist at the 2004 Summer Games. But after defeating Ze'evi, Darwish refused to shake the Israeli's hand, and instead yelled "Allahu Akbar" (video below). A similar event happened the summer before, when Turkish judoka Mehrat Baktash refused to shake Israeli judoka Jenia Schoulus' hand after defeating him in the youth world championship.
Is it possible that this year's summer games will go with no major conflict involving Israeli athletes? Stay tuned for the next two weeks.