EDITOR'S NOTE: On Oct. 7, Hamas gunmen swarmed an Israeli army base in Zikim, on the north side of the Gaza border. First Lt. Yannai Kaminka, 20, was among the officers killed in the defense of the base, which saved the lives of around 90 new recruits.
Kaminka was the son of Eyal and Elana Kaminka of Tzur Hadassah, a village southwest of Jerusalem. His father is a lecturer and consultant who formerly served as director of the International School for Holocaust Studies at the Yad Vashem Institute in Jerusalem; his mother, originally from Davis, California, is active in Tag Meir, a nonprofit that promotes coexistence between Arabs and Jews. "After school, Yanai volunteered with at-risk children for a year," she remembered in a note to friends announcing his death. "In the army, he was always concerned about his fellow soldiers, asking about their families and if they lacked anything — food, clothing, or were in any difficulty. He once invited a Palestinian neighbor to speak with his friends to help them better understand the challenging reality you live in."
Kaminka was also a madrich, or leader, in the Israel Scouts movement. One of his former scouts, Benjamin Siegel of Westchester County, New York, remembered Kaminka, posthumously promoted to second lieutenant, in a tribute Oct. 10 at Temple Israel Center in White Plains, New York. His remarks are reprinted below.
(JTA) — I live in Westchester County, New York, but I am also Israeli. A proud Israeli.
My family came to the United States three years ago, when I was 13. But Israel remains my true home.
We are from Tzur Hadassah, a beautiful community in the Jerusalem mountains of about 5,000 people. Everyone knows everyone.
As I was getting ready for bed late on Friday, Oct. 6, my phone erupted with alerts of rocket attacks across Israel, seven time zones away. Nothing could have prepared us for what was to follow.
The scope and brutality of the Hamas invasion early in the morning soon became apparent. Dispatches from Israeli media became more horrible by the hour. Family and friends in Israel kept feeding us more information. And it was all bad.
The day after the invasion started, I woke up to a text from one of my best friends that I should never have received. 
Yannai was dead.
Like me, Yannai Kaminka was American and Israeli. He was also my Israel Scouts leader.
In Israel, the Scouts, known as Tzofim, is our everything. There's no real comparison in the United States. It's our youth group, our community, our best friends, our leadership training. 
We were a band of brothers and sisters, meeting three times a week, from fourth grade through high school. Yannai was our leader — a madrich, to use the Hebrew word.
He was smart, fun, funny, strong. We always tried to tackle him and take him down, but he was too strong for us. We didn't mind. He was like a big brother to us all. 
Soldiers grow up fast in the Israeli Defense Forces and can be given a level of responsibility most people who never served in the military would find daunting.
Yannai became an officer of basic trainees. He loved the work, pouring his heart and soul into making his soldiers better. Israeli officers always lead from the front. Yannai worked himself to the point of exhaustion. When he'd come home on a weekend pass, he would pretty much sleep for two days straight.
That dedication was on full display when the Hamas terrorists invaded from Gaza. His trainees were still too new to press into action, so more senior officers went out to confront the attackers. One of Yannai's squad commanders was hit in the head and injured. Yannai evacuated her under fire and took her position. He and other IDF soldiers fought off Hamas for two hours, saving an untold number of lives, before they were hit by a rocket-propelled grenade and killed instantly.
Yannai was 20.
I stare at a photo Yannai's mom sent us of him and four other soldiers. They are smiling, just hanging out and having a good time. It is the smile that gets me. It's one of the things I will remember most about Yannai. Smiling came so easily for him.
In the photo is a young woman, the one he evacuated under fire. She came to his funeral bandaged. Another is in the hospital with serious injuries. The other two in the photo spoke at his funeral.
I told you how in Tzur Hadassah everyone knows everybody. It was no exaggeration. Everybody there stood outside with Israeli flags to honor Yannai on his final journey. 
He had done so much for so many in so short a time.
I will not let Yannai be a statistic. I will not stand by as others attempt to justify the invasion and killing spree that has left at least 1,400 Israelis dead, thousands more wounded and pierced the sense of invincibility in a nation whose spirit was bent but will not be broken. 
The ensuing days after the attack brought out some of the worst I've seen in people. Some protests glorified Hamas' systematic slaughter, rape, torture and kidnapping of innocent people, as if that barbarism was somehow a rationale to avenge Palestinian grievances against the Israeli government.
While many of my friends in Westchester have supported and consoled me, some, including at my school, posted on social media about how Israel and Israelis brought this on themselves. How sad. How absurd. Maybe they would like to tell Yannai's family how they feel. 
I suspect they would feel differently if they had met Yannai — the fun-loving kid you wanted to be like, to measure up to. The one who would effortlessly care about you as he set you on the path to finding your best self.
Yet even Yannai had his rough days. Once, his dad wrote him a poem to brighten his mood. The last line was, "Only at night do you see the stars." It became Yannai's personal slogan. He and his soldiers painted it on the wall of his army unit's headquarters.
I wish I could see my friend again. My grief will take a long time to subside. But I will remain strong. Because that is what Yannai would expect of me and of us all. And I never wanted to disappoint him.
Yannai Michael Oded Kaminka. Remember his name. Honor his memory. May it always be a blessing.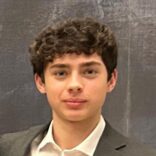 16, is a high school junior living in Westchester County, New York.
The views and opinions expressed in this article are those of the author and do not necessarily reflect the views of JTA or its parent company, 70 Faces Media.