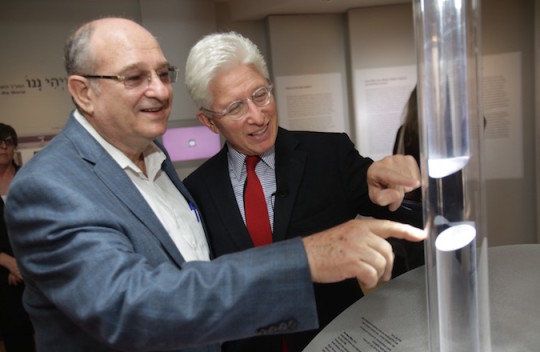 You've never seen the Bible like this before. That is, if you can see it at all.
For the 50th anniversary of the Israel Museum's Shrine of the Book, which houses the Dead Sea Scrolls, the museum has launched an exhibition on the "Nano Bible" which was created by Israeli scientists at the Technion. The world's smallest Bible, which is engraved onto a 0.5 mm2 chip and is barely visible, was produced back in 2007. In 2009, Pope Benedict XVI received one as a gift when he visited Israel.
This Bible, conceived by Uri Sivan and Ohad Zohar of the Russell Berrie Nanotechnology Institute at the Technion, is technically an engraving. Engineers took a wafer of silicon, coated it with a layer of gold less than 100 atoms thick, and engraved the text with a focused ion laser beam. Engraving the book's 1,200,000 Hebrew letters would have been an, ahem, biblical undertaking, so naturally the scientists devised a computer program that allowed the ion beam to inscribe the letters in around an hour and a half. By contrast, it can take a year and a half for a scribe to complete a kosher, hand-lettered Torah scroll.
The exhibition, which opened on April 20, runs through the end of 2016.
___
An earlier version of this article appeared on JTA.