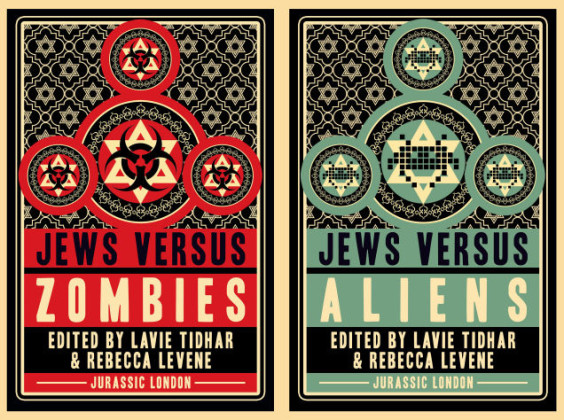 Q: What happens when a rebbe goes shopping for lemons and comes face to face with an alien invasion?
A: He learns deep humility and makes sure to leave a good tip.
A few weeks ago, two e-book originals with the unlikely titles Jews vs Aliens and Jews vs Zombies hit the e-shelves to ask some profound questions about the supernatural and about the Jewish faith.
Editors Lavie Tidhar and Rebecca Levene have gathered an incredible lineup of authors, from cult fantasy icons to sitcom writers to a recent winner of Israel's prestigious Sapir Prize for literature. In Jews vs Aliens, the stories often revolve around extraterrestrial invasions. Jews vs Zombies tackles close encounters with the living dead.
Whether you memorized the moves to Michael Jackson's Thriller or speak in Spockisms, there is something both irreverent and extremely devout in these stories. After all, trusting in the Unknowable, reinterpreting the past and predicting the future, finding hope in the idea that we're never alone – these are concepts we explore in most organized religions, and in Spielberg's E.T.
And as a great bonus, all proceeds from sales of these two volumes go to the British charity Mosac.
___
» Buy your own copies of the books
» Check out Biblical visions of alien creatures
» Learn more about E.T., Alf, and other famous aliens
» Join Mosac's great mission to help victims of abuse
___
Watch the "Thriller" video and try the dance moves that shaped a generation:

Reconnect with E.T., our favorite extraterrestrial: