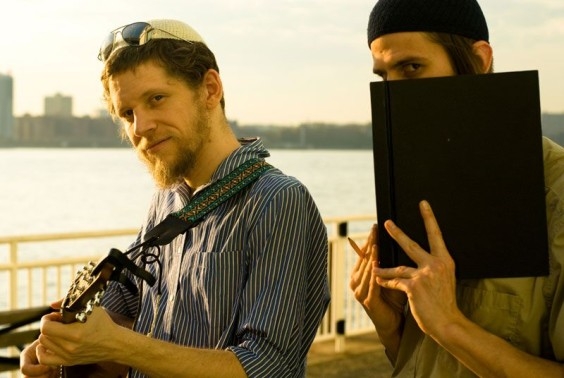 Jewish thought is full of paradoxes. A complicated philosophy is supposed to help us achieve simple faith. We want to get close to the Infinite, but we do it by following tons of rules.
Darshan is a musical group that embraces these contradictions and gives them a singular harmony.
To one side of the stage, there's Shir Yaakov. An acoustic guitar slung across his shoulder, he sings high and simple choruses. On the other side is Eden Pearlstein, whose stage name is Eprhyme — a poet and rapper who takes equal inspiration from traditional prayers, Kabbalistic secrets, and modern jazz. Bringing it together is an orchestra that features the likes of singer and oud player Basya Schachter and avant-garde jazz keyboardist Jamie Saft.
Together, the band mixes spiritual lyrics with exquisitely danceable beats. "Praying in the Fields" is about the ancient Kabbalists, who would leave the city every Friday evening to, well, pray in the fields. "To Zion" is based on a saying by Rebbe Nachman of Breslov that "everywhere I go, no matter what direction, I'm headed toward Jerusalem."
And the brand new single and music video, "Know Return," is perfect for the Jewish holiday season, and especially the ten days between Rosh Hashanah and Yom Kippur — it's about the concept of teshuvah, repentance, and of starting over.