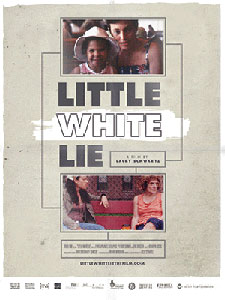 Lacey Schwartz didn't set out to be a filmmaker, but a story too personal to ignore dropped in her lap. Little White Lie is her documentary film about her family history, secrets, and ultimately her decision to face—and tell—the truth.
Born into a white Jewish family in Woodstock, NY, Schwartz always looked different—i.e., darker-skinned—than the other people in her family. Her mother told her that she took after her Sicilian grandfather. As her high school boyfriend, who was black, notes in the film, "White people will believe anything."
But when Georgetown University admitted Schwartz as a black student, presumably owing to the requested photograph, "It was like they gave me permission to start entertaining the idea myself." And what she found was that her birth father was an African American friend of the family—someone she had known her whole life.
It's not like there weren't clues. At her bat mitzvah, a well-meaning woman exclaimed, "It's so nice that we have an Ethiopian Jew in the congregation!" Schwartz explains, "If you looked too closely at it, it didn't make sense. So we didn't look."
Now she has; and the result is well worth watching.
____
» Watch the trailer for Little White Lie.
» Buy The Color of Water: A Black Man's Tribute to His [Jewish] White Mother
» Watch a short film about Sandra Laing, a South African child torn from her family
» Check out these great personal secrets
____
Watch the trailer for Little White Lie (2014):


Watch the trailer for Sandra Laing: A Spiritual Journey (2000):