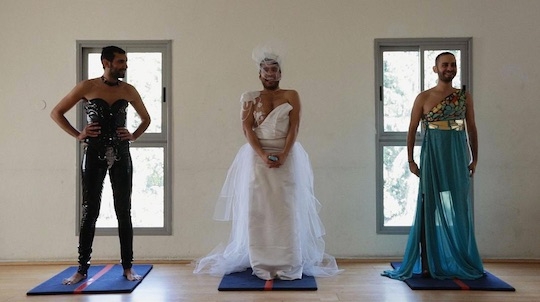 "Gay Israelis say, 'You don't feel accepted here? See how other Arab countries treat you,'" says Khader, one of the subjects of Oriented, a new documentary by Jake Witzenfeld. "But here I am in Amman," he notes, as beautiful people lounge in a swimming pool nearby, "having a blast."
Frank, funny, and daringly hopeful, this new documentary follows three young gay Arab Israeli citizens in Tel Aviv-Yaffo as they navigate politics, dating, and the politics of dating, all on the tense eve of last summer's Operation Protective Edge. One young man, on the verge of coming out to his family, struggles to explain the "freedom" he has in Tel Aviv relative to their small village; another, whose Jewish partner wants to leave Israel for Berlin, wrestles with why he feels he has to stay. Language, in the form of fluent code-switching between Hebrew, Arabic, and English, provides a mirror to the shifting borders of their identities.
Central to the film's raison d'être is to challenge the notion that being Arab and gay means being repressed, or always "struggling" — in doing so, it echoes a simple refrain for people around the world who feel unseen by their societies: "we are here."
Check here for upcoming screenings.