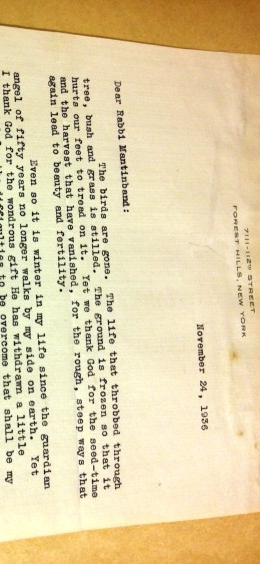 No, Helen Keller didn't make a late conversion to Judaism. But an amazing discovery a few days ago by archivists at Mississippi's Institute of Southern Jewish Life reveals a connection historians didn't know she had.
In 1936, just after the death of her teacher Annie Sullivan, she wrote a gorgeous, lyrical thank-you letter to Rabbi Charles Mantinbrand for his support of the then-fledgling American Foundation for the Blind, Keller's long-time employer:
"Out of the darkness in which she [Sullivan] died and I still am living I thank you, O friend, for the joy of lending a helping hand to those whose eyes seek the light in vain… May God's blessing rest upon you for your generosity to the American Foundation for the Blind, whose activities comfort the sightless with the rod of counsel and the staff of self-help."
Keller and Mantinbrand's paths crossed again when, in the 1940s, the New York-born rabbi would go on to pulpit a tri-city area in Alabama that included Tucumbia, where Keller was born.
Besides being a supporter of Keller's employer and cause celebre, Mantinbrand went on to be active in the Civil Rights Movement at a time when fear kept many southern Jews silent. As the chair of the Mississippi Council on Human Relations in Hattiesburg, his home was kept under surveillance, and he even got the cold shoulder from members of his own congregation. At least he had Ms. Keller.