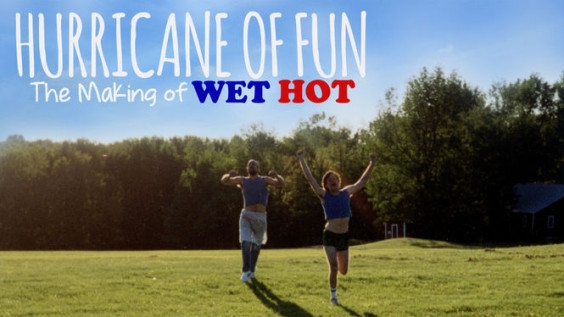 It's hard to believe it's been almost 15 years since David Wain and Michael Showalter created the cult-classic, Wet Hot American Summer – a campy comedy about Jewish camp life. They cast some of the most talented, hilarious people – Amy Poehler, Paul Rudd, Janeane Garofalo – and let them loose in a summer camp.
But did you ever wonder what happened behind the scenes? When the cast wasn't cozied up in sleeping bags, drinking bug juice in the mess hall, and splashing in the lake? What kind of pranks did they pull when they weren't praying (in Hebrew) for their skylab deflector to work and identifying the Jewish girls by nose size?
Thanks to Wet Hot American Summer set photographer Amy Rice, we now know. In her just-released Hurricane of Fun: The Making of Wet Hot, the director-producer has woven together over 25 hours of behind-the-scenes, never-before-seen ridiculously funny footage. Spontaneously improvised raps, bathroom pranks and bubblegum kisses – these are the scenes where we get to see some of Hollywood's most brilliant comedic minds crack each other up.
Wet Hot has a lot of new incarnations and developments. As you probably heard, Netflix just released a prequel series with a similar all-star cast, called Wet Hot American Summer: First Day of Camp.
For extra credit, watch these two back to back. And then make sure to check for poison ivy and awesome memories.