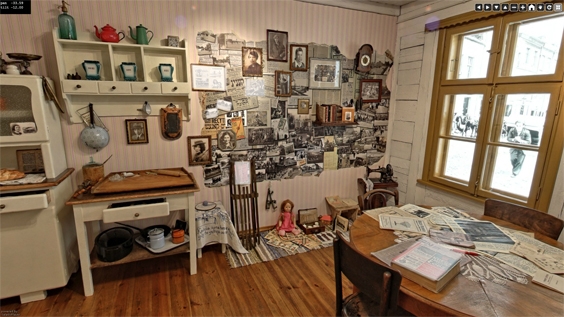 Have you ever wanted to step into the past? Not into a famous battle, or a momentous event, but into someone else's home, to be able to see how that person lived and worked?
A new project from Indiana University lets you do just that. "In Mrs. Goldberg's Kitchen" is a digital panorama that visitors can "walk" through, clicking on objects to learn more about the Goldbergs, a real family who lived in a heavily Jewish district in Lodz, Poland, between the two world wars. (Those families would later be the location of the Lodz Ghetto.) A physical version is on display in Lodz's Central Museum of Textiles.
Lodz was a multi-ethnic industrial city, and the Goldberg family (in fact the parents of exhibit co-creator Halina Goldberg) serve as virtual guides to its richness and everyday life. You can hear what's on the phonograph, see what's cooking, and take a peek at an issue of Haynt, a Yiddish daily, on the wall. The street scene visible through the window reminds viewers of the vibrant Jewish life waiting beyond the house's walls.
___
» Explore Jewish life in Poland
» Read about Ashkenazi Jewish food
» Learn more about interwar Polish Jewish women
» Watch interwar Polish Jewish home movies