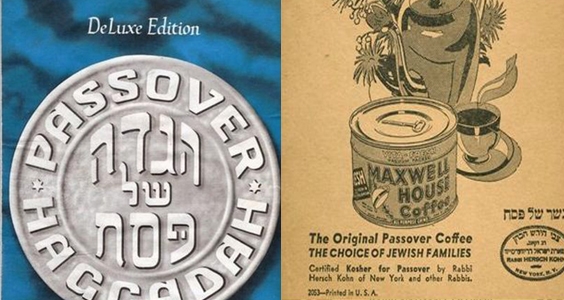 In our worst nightmares, coffee is not kosher for Passover. In early 20th-century America, this nightmare was almost real: Jewish stores mistakenly classified coffee beans as legumes, making them forbidden during Pesach according to Ashkenazi tradition. But then American advertising came to save the day — in the form of the Maxwell House Haggadah.
In 1923, an advertising manager for the Forverts, Joseph Jacobs (not to be confused with Rabbi Jacob Joseph), ran an ad assuring readers that Maxwell House coffee was kosher for Passover. In 1932, he went a step further, convincing the company to publish the now-iconic haggadah to give away with cans of coffee and lock in the loyalty of Jewish consumers. This might explain why your great-aunt Betty had twelve of them.
The success of the campaign resulted in more than just a cup of coffee with your afikomen — it also convinced other American brands like Jell-O and Colgate that the Jewish press was the gateway to an untapped market. And for assimilating Jews, it provided the first truly American script for the Passover ritual. Not to mention a strong recommendation for how to wrap it up.
___
» Watch a history of the ad campaign for the Maxwell House Haggadah
» Quiz yourself on what's kosher for Passover
» Discover when Maxwell House went gender neutral
» Bid big $$ on the first American Haggadah
___

Watch a short video on the history of the Maxwell House Haggadah: