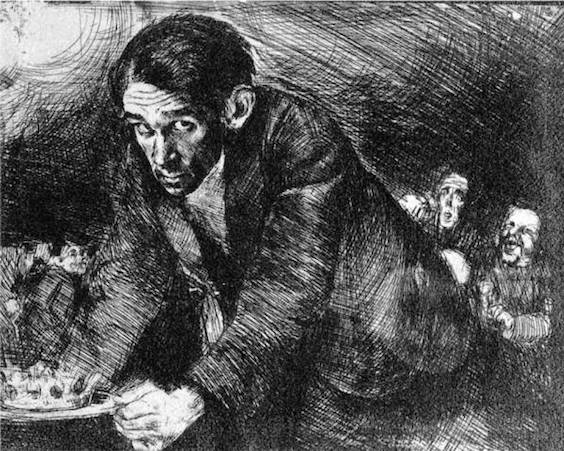 Bruno Schulz wasn't just one of the 20th century's greatest Polish-language literary stylists—fans know him well for his beautiful and surreal story collection The Street of Crocodiles—he was also a talented fine artist, as seen here in this self-portrait. Tragically, he died far too young.
Sometimes referred to as the "Polish Kafka," Schulz was born in a small village in Galicia in 1892. When the Nazis invaded in June 1941, Schulz had already established himself as a writer and painter of acclaim. Though sickly at the time, his reputation nearly saved his life.
A Gestapo sergeant, aware of Schulz's talents, set him to work painting murals for his children's nursery. In this way, Schulz survived until the day another Gestapo official murdered Schulz as revenge on the sergeant for killing his Jewish dentist. "You killed my Jew. Now I've killed yours," the official reportedly said.
Little of Schulz's art survived, yet in 2001, a documentary filmmaker discovered the nursery, the murals mostly intact. Here lies the controversy: Yad Vashem representatives visited the apartment—now Ukraine—and secreted the murals to Israel. After a long bout, a deal was reached: Ukraine owns the murals but agreed to a long-term loan. In this way, everyone is happy.
Everyone, that is, except Bruno Schulz.