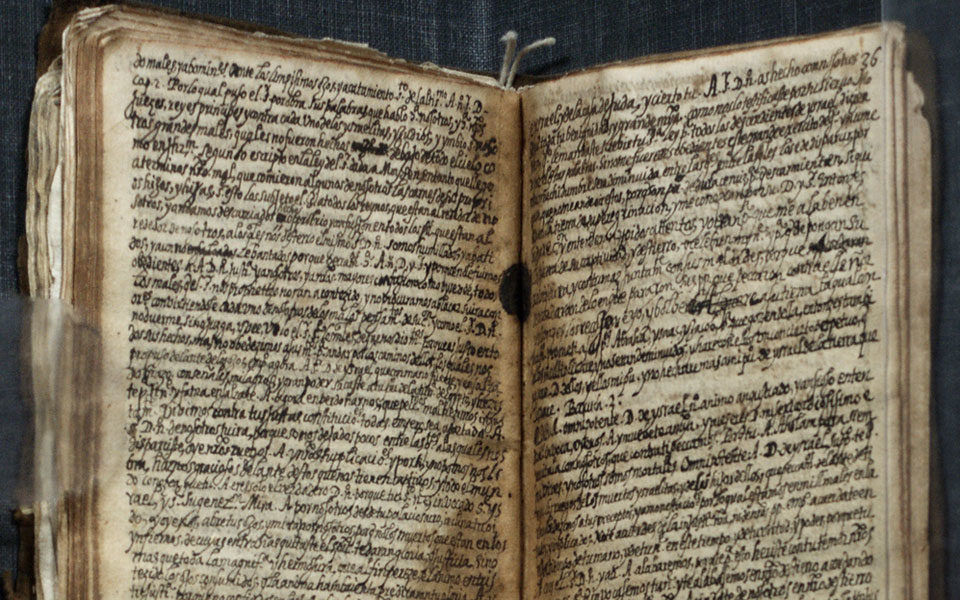 It hasn't won any literary prizes or received an Oprah endorsement. But a brief autobiographical account by 16th-century Spanish-born Luis de Carvajal the Younger, bound together with other documents written in his hand, is the earliest known Jewish text in the New World. And for the first time—as part of a fascinating new exhibition on the Jews who fled Europe after the Inquisition, this little book (all four-inches-by-three-inches of it) is on display.
Carvajal (ca. 1567-1596), a crypto-Jewish "converso," continued to practice Judaism in secret after leaving Europe for colonial Mexico, where his uncle was a local governor. But the Inquisition reached across the ocean, and Carvajal's small volume—combining pages memoiristic ("Saved from terrible dangers by the lord, I, of the Hebrew nation / and of the pilgrims to the West Indies, / present this brief history.") and devotional—contributed to his conviction and death sentence.
Similarly dismal fates befell 120 other Jews, including a number of relatives, whom Carvajal was pressured to denounce. He, and they, were burned at the stake in 1596.
Carvajal's remarkable book was recently recovered after going missing from the National Archives of Mexico for over 75 years. The lettering—in Spanish—is minuscule, and a glass case shields the delicate pages. But it is a key piece of American Jewish literary history. Go see it for yourself, if you can.
"The First Jewish Americans: Freedom and Culture in the New World" is on display at the New-York Historical Society through February 26, 2017.
Photo: New-York Historical Society