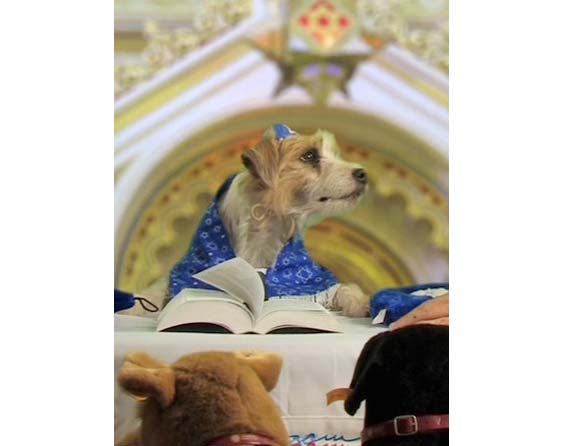 What's your stance on whether dogs deserve equal access to the Torah? If you don't have one, you're about 60 years late to the party.
The first documented bark mitzvah took place in Beverly Hills, CA in 1958, and celebrated Max and Janet Salter's dog, Windy. Max, a former Mayor and City Councilman of Beverly Hills, was also a noted philanthropist businessman. Since Windy was actually a black cocker spaniel (whose full name was Duke of Windsor), the Salters threw him a "Cockertail" party, which Janet Salter referred to as a "bark mitzvah" on the invitation, thereby coining the term. The event was attended by over one hundred guests, who brought the guest of honor gifts, including dog biscuits and fountain pens. Windy was the first of the Salters' dogs to have their passage into adulthood marked by assuming tallit and a kippah – each of the family's dogs had a bark mitzvah when they reached the formidable age of 13.
Bark Mitzvahs, which are alternately marked at 13 months, often take place in family homes, but they're not limited to them – in 2014, more than 30 dogs and their families took part in a bark mitzvah service held on the back lawn of a Raleigh, North Carolina synagogue. The event lasted approximately half an hour and all fluffy creatures were very well behaved.