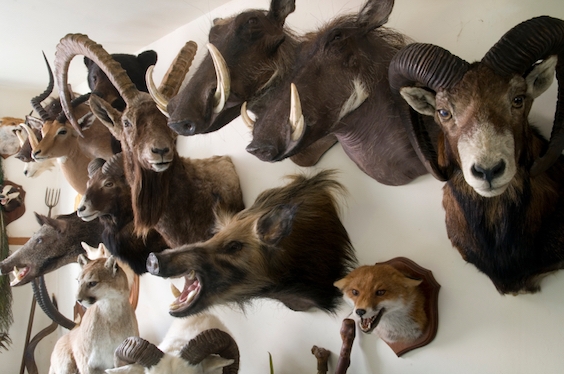 Tucked away in a brownstone in the Brooklyn shtetl of Borough Park is a family-friendly attraction of almost Biblical proportions: Torah Animal World, or the "spiritual taxidermy center" of New York City.
Spanning 11 stories, Torah Animal World overflows with more than 350 taxidermic mammals, birds, reptiles, and fish—all, or nearly all, critters that are mentioned in the Torah. Though there are exceptions: as Rabbi Shaul Deutsch, founder, explains, a stuffed kangaroo, say, is permissible because it holds educational value. Other artifacts, like a centuries-old deerskin Torah from Aleppo, round out the museum's eclectic collection.
According to a 2014 Vice article, Torah Animal World attracts 35,000 visitors a year—quite a feat for a homegrown museum.
As for counterparts, look to the Jerusalem Biblical Zoo, whose collection of biblically-mentioned wildlife is decidedly alive. Other than being a peshat, or literal, enterprise, the Jerusalem Zoo has seen success in both breeding endangered species and releasing rehabilitated animals back into the wild. Thanks in part to them, the famous Persian Fallow Deer has seen its numbers grow in Israel. And a current project seeks to revitalize the nearly-extinct and adorable Negev Tortoise.
But remember, no matter how excited you are, please don't give the animals your Bamba.