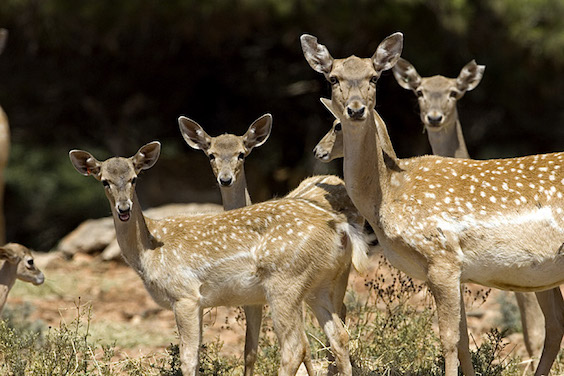 In the valleys of the Galilee, along the slopes of Mount Carmel, prance the rare Persian fallow deer. Their presence in Northern Israel is, you could say, a miracle. You could also call it the fruit of a madcap caper.
Listed as one of the hoofed critters Jews can eat in Deuteronomy, the fallow deer (yachmor parsi, in Hebrew) was once a common sight in the Holy Land, though hunting wiped them out in the early 1900s. In 1978, though, everything changed.
General Avraham Yoffe, founding member of the Haganah, was an animal lover. So when he learned that fallow deer still roamed in Iran, he courted Iranian officials, eventually securing four deer as a gift. But two things stopped the transport: General Yoffe had a mild heart attack. Oh, and the Islamic Revolution broke out.
So as Tehran's streets thrummed with violence, Mike Van Grevenbroek, a zoologist dispatched from Israel, snuck a blow-dart gun disguised as a cane into Iran, and set off into the country to bag some deer. Through clouds of tear gas and over shattered glass, Van Grevenbroek, along with fleeing Iranian Jews, made it to the airport, deer secured. When his plane landed in Tel Aviv, General Yoffe was waiting for him, tears in his eyes.
(Photo by Eyal Bartov)