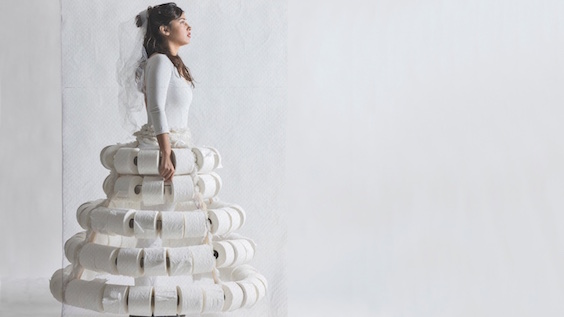 The film Wedding Doll is set in an isolated town in Israel's Negev Desert. Hagit (Moran Rosenblatt) is a peppy young woman with a mild mental disability who works at a local toilet paper factory.
An aspiring fashion designer, she spends her evenings making sketches and crafting tiny dolls with wedding dresses made of toilet paper. A budding romance with the factory owner's son offers her the chance to live out her fantasy of becoming a bride herself.

Rosenblatt performs with remarkable self-assurance in documentary filmmaker Nitzan Gilady's debut narrative feature. Hagit is charming and adventurous but is unable to separate her romantic dreams from reality. Childhood bullies left her physically scarred, and her devoted but overprotective mother Sara, played movingly by Asi Levi, is determined to shield her from further harm.
Hagit's love interest, Omri (Roy Assaf) wants to invest in the factory and save it from closing, but his father would rather send him to college abroad. The film sensitively portrays some of the social fault lines and tensions so often obscured, in the international eye, by the Israeli-Palestinian conflict–and is winning accolades in Israel. Wedding Doll won Best Actress (for Asi Levi) and Best Debut Feature at the 2015 Jerusalem Film Festival.
It opens in New York at the Village East Cinema, and in Los Angeles at Laemmle Music Hall and Laemmle Town Center on April 15.