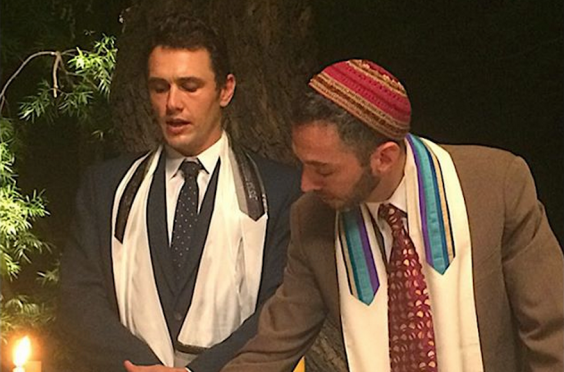 Miley Cyrus wore a Star of David (or did it wear her?) and a leotard that would have made your bubbe blush. The guest of honor looked decidedly uncomfortable when lifted in the air by his guests — not to the strains of Hava Nagilah, but to "Superfreak." (Contrary to his stated desires, we're pretty sure that in the end Seth Rogen did not mix up his Jewish rites of passage and accidentally hire a mohel, but we can't be sure.)
That's apparently what you get when you throw a bar mitzvah party for actor-writer-director-Hollywood-"It Boy" James Franco, who missed the ritual age of becoming a man by about 25 years, but dutifully submitted to this late celebration to support Rogen's "Hilarity for Charity," which donates to Alzheimer's care and research. DJ Kosha Dillz actually released a song for the occasion. (His estranged brother, DJ Kasha Varnishkez, declined to comment for this Jewniverse).
Two weeks ago, Franco did actually read from the Torah. His parsha was probably Vezot Hab'rachah, which contains a verse about Moses that Franco probably wishes, just a little, was about him: "Moses was a hundred and twenty years old when he died. His eyes had not dimmed, nor had he lost his natural freshness." Let us be the first to say: mazel tov, and stay fresh, Franco.
Photos from Instagram.