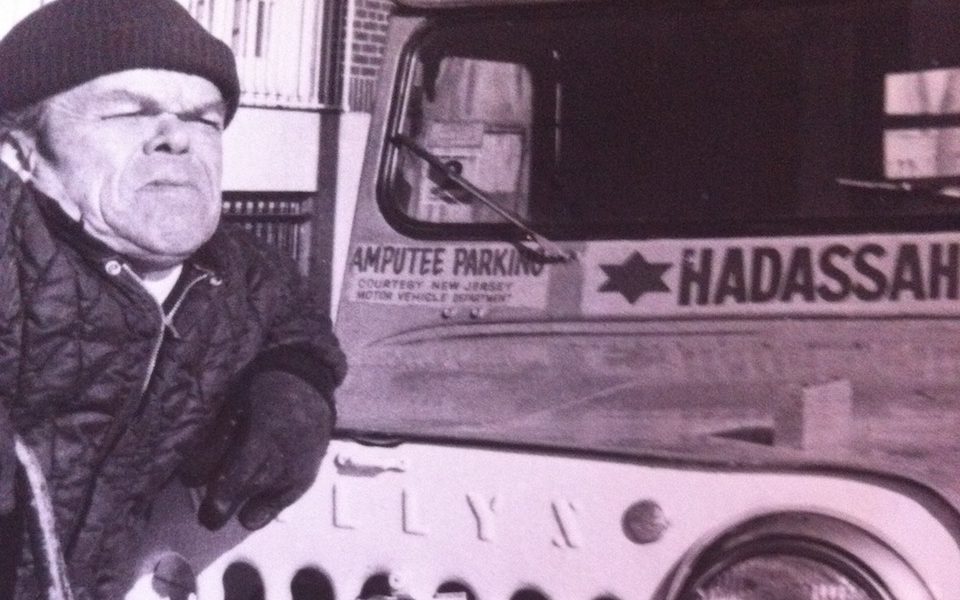 Moishe Morris "Mace" Bugen was quite a sight. Standing three-and-a-half feet tall, Mace could be spotted driving "Hadassah" — a Jeep custom-fitted with extra-long pedals — around Pennsylvania's Lehigh Valley from 1940 to 1980. The Jeep was quite a sight, too: It was plastered with blue-and-white stars and sported its name across the front.
Bugen, the subject of Gabrielle Kaplan-Mayer's new book, The Little Gate-Crasher: The Life and Photos of Mace Bugen, was born with achondroplasia dwarfism — but, as Kaplan-Mayer, Mace's great-niece, points out, he refused to let his disability impede a good life.
Kaplan-Mayer's great uncle became a successful real estate agent, and was often spotted driving around the valley, picking up used clothes for his mother to send to refugees in a recently-formed Israel. He loved celebrities—among his possessions are photographs taken with Ella Fitzgerald, Sammy Davis Jr., and Muhammad Ali.
The idea behind the book wasn't only to record a wonderful life, but to raise awareness about the need for welcoming, supportive and creative accommodations for people with disabilities. For Kaplan-Mayer, the director of Whole Community Inclusion at Jewish Learning Venture — and who is the mother of a son with autism — this is a poignant task.
Both his life and Bugen's, Kaplan-Mayer writes, "reflect the tremendous diversity of the human experience — and that is to be celebrated."