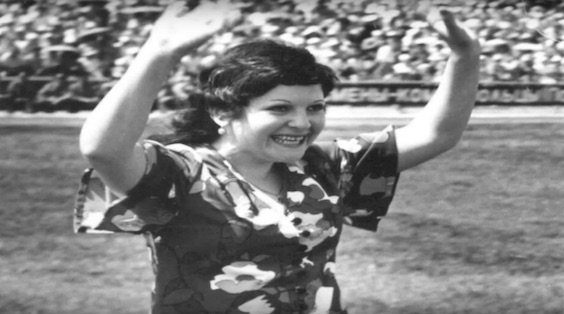 Some dentists spruce up their offices with a potted plant or a TV. But if you chance to get a root canal in Brighton Beach, NY, you could get treated to a performance by one of the most celebrated jazz singers in Russian history.
Nina Brodskaya was just 16 years old when she was "discovered" by celebrated jazz musician Eddie Rosner (aka "the white Louis Armstrong"), who led a famous jazz orchestra until being imprisoned under Stalin. Brodskaya, too, flourished while singing in her motherland, and became a favorite on radio, film and television.
https://www.youtube.com/watch?v=lvxPYKEwUQg&list=PL168F974704D1D9E7
But when she left for America with the exodus of Soviet Jews in 1980, she had a hard time adjusting.
Fast-forward to 2016 though, and Brodskaya's got her swing back—albeit on a slightly more modest scale. Every Tuesday evening, Brodskaya performs with Dr. Mark Rosen's Big Band, a 20-piece ensemble of Russian immigrant jazz musicians crowded into the dentist's basement office.
The band also includes a policeman, a butcher, and a limo driver. And Brodskaya herself is a woman of many talents. In addition to having composed songs in Russian and English and released them on seven albums and EPs (including a Yiddish album called The Jewish Mother/Yiddishe Mama), she has even published a book (in Russian) called The Naked Truth About Pop Stars.
We'll let you know if her Brooklyn dentistry album becomes album number eight.