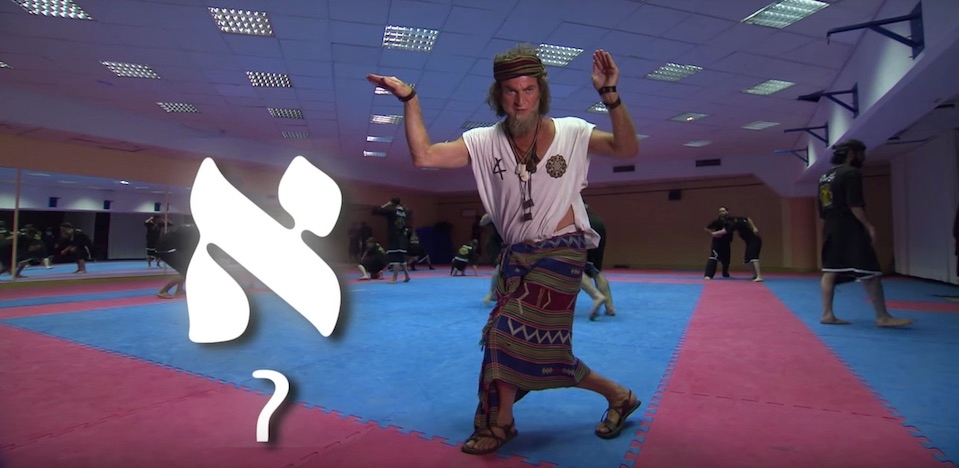 Depending on your penchant for skepticism, Abir Qesheth is either an ancient Jewish martial art passed down from Yemenite warriors or a brand new martial art created by a former rapper named Yehoshua Sofer. Sofer, who says he's from Jamaica and/or Yemen, allegedly received the secret tradition from his father, who was the grand master. And now Sofer is passing it along to us.
Sofer may or may not descend from a long line of Jewish warriors who acted as bodyguards for Saudi royalty and Ethiopian kings. For years, he says, they practiced their martial art in secret for fear of anti-Semitism, but Sofer now teaches classes in Jerusalem twice a week, training Jewish men to be Jewish warriors. He even drills his students using the Hebrew alphabet, with each letter inspiring a different movement.
But Sofer wasn't always a Jewish warrior. In the early 90s he was part of Israel's burgeoning hip-hop scene, pioneering a sound called ragamuffin, with a cult hit album called 'Hummus Makes You Stupid,' under the name "Nigel Ha'Admor" (Nigel the teacher).
Whatever you call him, you can't miss him on the street. With dreadlocks, a white headwrap, robes and leather sandals, his look is as unique as his story.