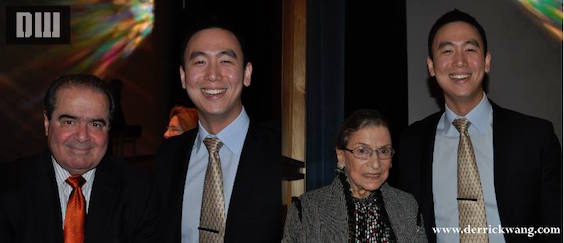 Not all operas end with death or marriage. Some, like Derrick Wang's Scalia/Ginsburg, about the unlikely friendship of the two Supreme Court justices, culminate in constitutional consensus. The musical pastiche of an American comic opera follows the pair through three cosmic trials, a la Mozart's The Magic Flute. But to succeed, they have to agree on how to interpret the constitution.
Self-billed as a buddy comedy and chock full of legal citations, Scalia/Ginsburg makes Notorious RBG its queen in documenting her friendship with her ideological adversary. With the recent passing of Antonin Scalia and last week's mock confirmation hearing, this ode to across-the-aisle friendship is as relevant as it was when the opera was produced last summer.
Ginsburg surges onto the scene by rising through the floor in a nod to Mozart's Queen of the Night, dramatically belting out that she's abundantly equipped to break through a glass ceiling. Later (with an eye to her Jewishness?) and in homage to Verdi's "Chorus of the Hebrew Slaves" she sings of protecting citizens against racial discrimination.
Justice Ginsburg, who has recently been honored in a myriad of innovative ways (this cat proves that imitation is the sincerest form of flattery), loves Wang's tribute. She supported it from the beginning and teared up at its memorial to her husband. She even quoted from it in her tribute to her late friend.
Photo: Facebook.com/DerrickWangMusic/