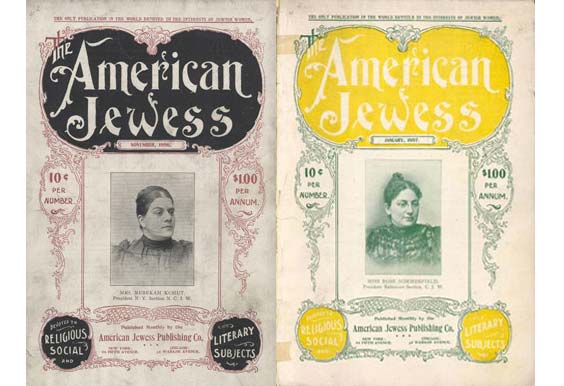 Imagine scathing remarks about how "grotesque" ladies' hats can look in profile, pseudo-macrobiotics (don't shun "the much-abused cucumber," and striking preoccupation with bicycles—spiced with Jewishness, shellfish recommendations, and women's empowerment—sharing the pages of the same periodical. Too bizarre to be true?
Fortunately for her readers, the Hungarian-born St. Louis society lady Rosa Sonneschein's brainchild The American Jewess (1895-1899) realized all this and more. The first such English-language publication, it dedicated itself to "the interests of Jewish women" in America. Edited and mostly written by Jewish women, The American Jewess catered to the upwardly mobile seeking to unite their Jewishness and Americanness.
Alternately chatty and soapbox-like, The American Jewess also treated lifestyle, cultural, and political topics. It reported on the National Council of Jewish Women, literature and the arts, even medicine. Need an answer to a daily dilemma, like the merits of nicknames for women of a certain age (spoiler alert: there are none) or kitchen fashion? ("I would advise you to echew calico.") Enter the delightfully opinionated Woman Who Talks, who dealt with various quandaries in her column. Regretfully, insolvency forced it to fold before it could take its wisdom into the 20th century. But for its pioneering marriage of women's journalism and Judaism, The American Jewess holds an important place in Jewish women's history.