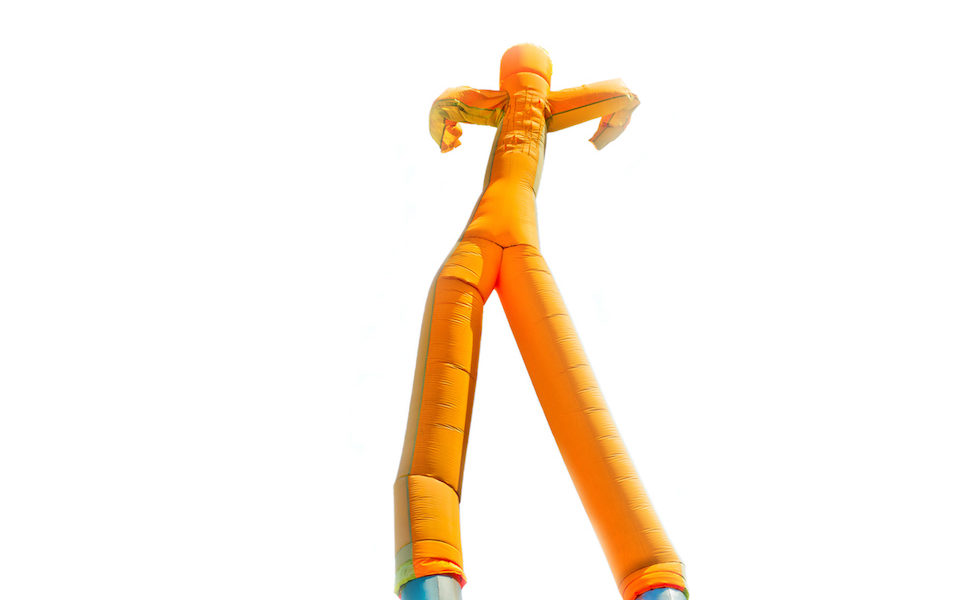 You know those tube-shaped inflatable guys that dance around all wacky, with a convulsing body and waving arms? They've become omnipresent in the urban landscape, from used car lots to pawn shops. And it turns out they were designed by an Israeli artist. Well, sort of. See, things got sticky.
As explained in a recent episode of the design podcast 99% Invisible, the origin of "air dancers" is traced back to Caribbean artist Peter Minshall, who conceived of the larger-than-life puppets for the 1996 Atlanta Olympics opening ceremonies. He wanted their movements to resemble Calypso dancers from his native country of Trinidad & Tobago.
But then things got complicated. To carry out his vision, Minshall hired Doron Gazit, an L.A.-based Israeli artist. After the Olympics, Gazit applied for a patent in 2001 and began licensing the use of the "flyguys" (as he calls them) through his company, Air Dimensional Designs.
Minshall was not pleased. He says he didn't realize Gazit would try to monetize the inflatable dancers. Gazit says he had to: He'd tried to get a hold of Minshall, to no avail, and had already put a lot of effort into developing them and other people were starting to rip him off. He's mostly left the "flyguys" behind, but still works with inflatables, like his set design for Beyoncé's 2013 Super Bowl halftime show.
So next time you see a crazy inflatable dancing guy at a shopping plaza, know that you have an Israeli artist to thank (or blame) for popularizing them.