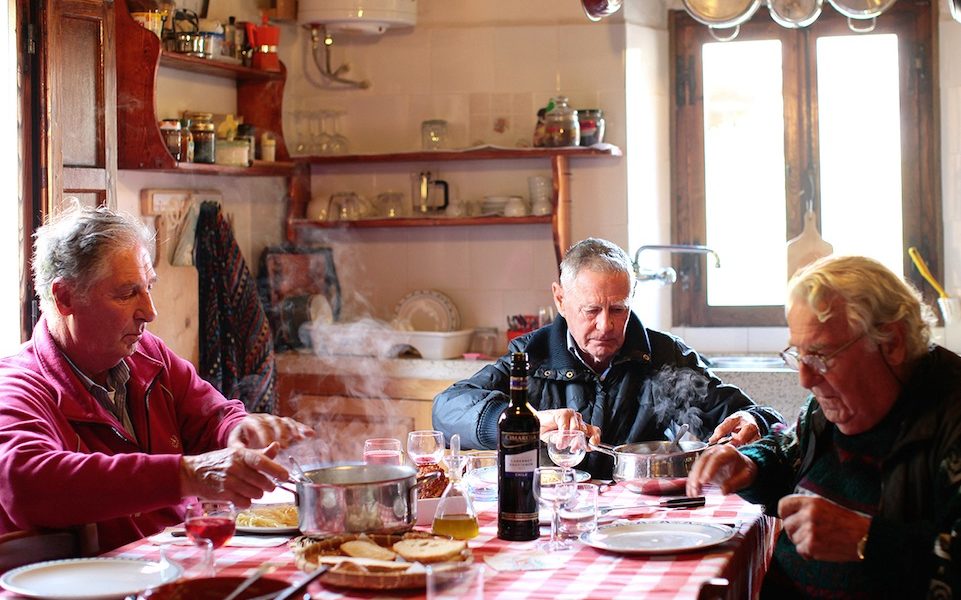 In the winter of 1944, a well-to-do Jewish family from Florence escaped deportation to Auschwitz by hiding in a cave they dug in the Italian countryside. Seventy years later, the three, no-longer-young Anati brothers returned to find the cave they hid in with their parents, and reunite with the villagers who'd saved them. A surprisingly lighthearted, touching new film documents their journey.
At first, Shalom Italia seems to document a great family vacation. The brothers, now in their 70s and 80s and living in Israel, rent a house in the Italian countryside and feast on pasta, mozzarella, prosciutto, fresh tomatoes—everything you'd expect of a great Italian meal. But when they're not shopping at village markets, the family pursues their unusual mission.
The family's unique experience of the war—and the fondness with which they remember that tragic time—is conveyed by the striking upbeat tone of the film. Andrea Anati recalls: ""We lived in the woods, played Robin Hood and collected mushrooms. I had fun during the Holocaust."
For years, the brothers did not consider themselves survivors. The filmmaker, Bubi's daughter-in-law Tamar Tal Anati, did not even learn until shortly before the trip how the men had survived the war. Shalom Italia, or, as it's known in Hebrew, "Three Brothers and a Cave," tells their story with poignance, sensitivity, and joy.
("Shalom Italia" airs at 10 p.m. EST Monday, July 24, on PBS. It will also stream online at pov.org from July 24 through Aug. 26.)