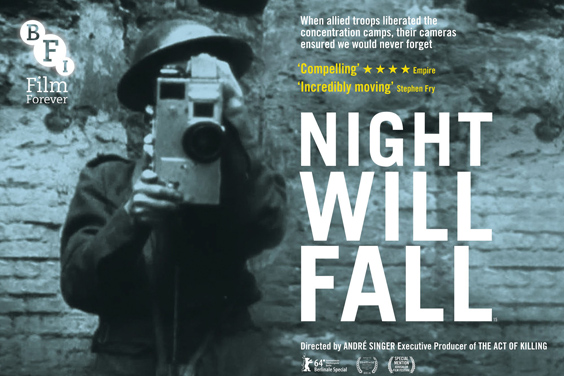 For the 70th anniversary of the liberation of Auschwitz, there can be no better commemoration than Night Will Fall, a new documentary airing tonight on HBO.
Masterfully directed by Andre Singer, Night Will Fall is the story of a story. In 1945, the British Army Film Unit commissioned producer Sydney Bernstein to make a documentary from Allied footage of the liberations of Auschwitz, Dachau, and, most notably, Bergen-Belsen, among others. The footage is unflinching and profoundly disturbing, particularly for those more comfortably accustomed to static depictions of Holocaust horror.
But German Concentration Camps Factual Survey, Bernstein's documentary—on which he consulted friend Alfred Hitchcock—was ultimately canned. England, wary of needing German support against a growing Soviet threat, decided to shelve the project in lieu of further alienating the German people. The film gathered dust for 70 years. But now, thanks to the meticulous restoration of the Imperial War Museum, that film, too, has been released, and the story of its death and rebirth, as told in Night Will Fall, is riveting.
Warning: Singer doesn't hold back in infusing the documentary with footage from the original. These are images that can't easily leave the mind.
Night Will Fall airs tonight, January 26, on HBO at 9PM, and again tomorrow, January 27, on HBO2.
____
» Watch a trailer for Night Will Fall
» Check HBO listings
» Read more about Hitchcock's involvement
» See a trailer for the original Factual Survey

____
Watch the trailer of Night Will Fall:


Watch a trailer for the original
Factual Survey of German Concentration Camps
: