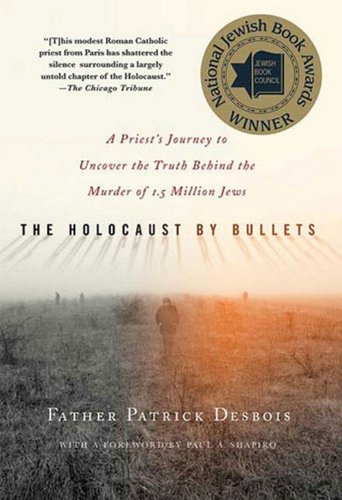 If there was a distinction for modern-day Righteous Gentiles, Father Patrick Desbois would be the first to be honored.
In 2002, sometime after learning that his grandfather, a French soldier, had been imprisoned during the Holocaust, Father Desbois trekked out to Ukraine to see the concentration camp. When he arrived, he was flabbergasted to find no memorial, no marker at all, alluding to the Jewish victims of the area.
So in addition to serving as the Director of the Episcopal Committee for Relations with Judaism and having his work sanctioned by the Pope, Father Desbois founded Yahad-In Unum, "together" in Latin and Hebrew. The organization's main goal is to advance relations between Catholics and Jews. But its biggest project is something equally weighty: to locate the many mass graves of Jewish victims across Eastern Europe.
Since its founding in 2004, Yahad-In Unum has researched 1,617 execution sites, gathered 4,186 testimonies, and has taken over 94 investigate trips.
And if that wasn't good enough fodder for his CV, Father Desbois's 2008 book Holocaust by Bullets—which refers to the Jews killed outside of camps by the Einsatzgruppen—won a National Book Award. Our hats are off to you, Father Desbois.