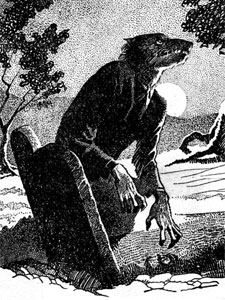 Two weeks ago, Argentinian president Cristina Fernandez de Kirchner adopted the country's first Jewish godson – Yair Tawil – in order to keep him from turning into a werewolf.
Some news outlets challenged the report. But actually – it's true.
Over a century ago, Argentinian presidents began a custom of adopting seventh sons in families of only boys. Originally a Czarist Russian tradition, the symbolic gesture comes with a gold medal and a full educational scholarship.
Yair Tawil did, in fact, become the Catholic nation's first Jewish godson. And the Tawils did, in fact, participate in a ceremony in which they lit a menorah with President Kirchner. And it seems to be related to the folk legend that little Yair might prey on livestock in the stark light of the moon. Why else would she adopt the boy?
The legend of el lobizon states that the seventh son in a family of consecutive sons will turn into a werewolf after his 13th birthday (b'nai werewolf?). It's a myth that predates the president's act by a long shot.
Nevertheless, news outlets were quick to connect the two, citing President Kirchner's adoption as not just lovely, but necessary – so as to keep poor Yair from coming down with a bad case of lycanthropy.
____
» Read a story explaining the mix-up
» Enjoy, vicariously, one rabbi's recent trip to Argentina
» Learn about the werewolf's Jewish roots
» Check out our own favorite Jewish myth