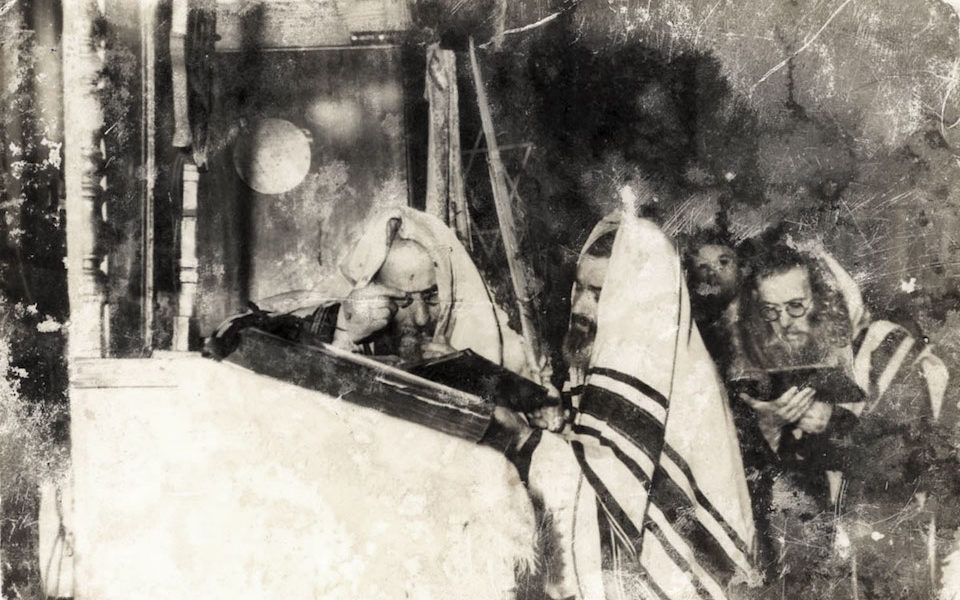 During the Holocaust, Jews found innovative ways to maintain religious observance. From whispering Sabbath prayers at Auschwitz to carving potato menorahs at Bergen-Belsen, stories of risk and resistance have long been told. But rarely have they been seen. This changed in 2012, when incredible photographs surfaced of four men and a young boy saying Sukkot prayers over the symbolic lulav and etrog in an unlikely place: inside the Lodz Ghetto.
In 2011, an Israeli Holocaust education organization named the Shem Olam Institute launched an initiative to collect photographs of Jews from the Holocaust. The project had a twist: They were seeking them from families of former Nazi soldiers, eager to purge these reminders of their dark past. Among the thousandsof photographs that were handed over were these, from Sukkot 1941.
Starting in February 1940, Jews from across the city of Lodz and a broad swath of Poland had been forced to cram into the ghetto. Residents sent a letter of thanks to the Jewish ghetto leader Mordechai Chaim Rumkowski for permitting them to use scraps of wood—so precious for heating—to build the traditional hut. The four species of branches and the citron were smuggled into the ghetto, possibly from as far as Palestine. Jews waited in long lines just to shake them—a religious and sensory reminder of life outside the ghetto, before the war.
Top photo: Yad Vashem Archive
All others: Shem Olam Institute